Wedding Rings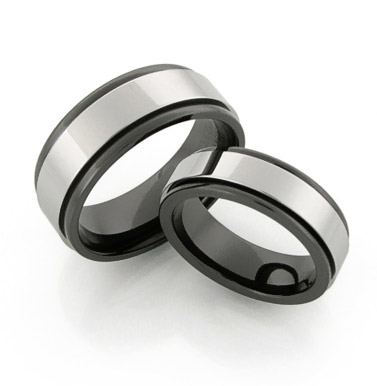 Wedding rings are a symbol of love, honor and commitment. Your vows that you make on your wedding day are for better or worse, till death do you part. Avant-Garge Titanium offers you rings that will last just as long as your love and stand the test of time. Our titanium and tungsten wedding bands are designed with even the pickiest tastes in mind. That is why we offer the variety we do.
We have been in business for quite a few years. We started out as a special order company in Southern Ohio. Since then we have grown to who we are today. We are proud to offer our handcrafted wedding rings and jewelry to the general internet population. Our website offers a variety of rings and styles all at affordable prices. The best part is that you can place and track your order online!
There are many reasons why titanium and tungsten wedding rings have become so widely popular within the past decade. These metals' strength, comfort and durability is one of the main reasons men and women invest their money and love into them. They do not tarnish and are hypoallergenic for even the most sensitive skin. Fifty years from now your wedding band will still look like the day you bought it. Titanium and tungsten rings are ideal for people who use their hands a lot, athletes and more.
Your wedding rings, like your love, will stand the test of time. You can show your spouse that your love is forever with these timeless bands that will last just as long. Nothing says forever more than the thought and time put in to finding the perfect wedding bands.
Your wedding day is meant to be special and memorable with vows that are not meant to be broken. A ring symbolizes your love's eternity for better or worse. Choosing a durable and strong, as well as beautiful, wedding ring shows how much that person means to you. You do not have to tell them you care when you can show them with a wedding ring that is eternal.
We understand the importance of choosing the perfect ring that you will wear till the day you die. That is why we offer variety, affordability and customer service. Please feel free to browse our website and get to know us better through the testimonials of our happy and satisfied customers along with the products and services we offer. You will not be disappointed with the quality of craftsmanship and customer service you receive when you choose us. We are here to help make your dreams come true by designing and crafting the perfect set of wedding rings for your and your spouse to enjoy for years to come.