Titanium Rings Grades
Important information regarding grades of titanium used in our rings and jewelry. Please click here to learn about the gold & platinum we use in our rings.
We use 3 grades of titanium to manufacture our jewelry.
Titanium rings are available in Aircraft grade titanium Ti-64, super hard titanium Ti-662, and pure titanium Ti-999.
Ti-6/4 - Aircraft grade titanium alloy (6Al/4V)
Ti-6/6/2 - Extra-hard titanium (6Al/6V/2Sn)
CP - Commercially Pure Titanium (Ti-999)
Titanium is a superior metal for jewelry making simply because it will never tarnish, and it is 100% compatible with the human body, not causing allergic reactions, skin irritations or discoloration of any sort, making it the ideal metal for those with sensitive skin, and especially for allergic contact dermatitis (nickel allergy) sufferers. This is true for all grades of titanium, including CP, 6/4, and 6/6/2.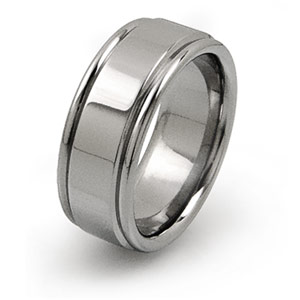 Aircraft Grade Titanium Ti-6/4.
It has a much greater hardness than basic titanium, not to mention traditional jewelry metals. Aircraft Grade Titanium alloy is about 3 times stronger than basic grade (CP) and will resist wearing to a much greater extent.
Titanium 6/4 consists of 90% titanium, 6% aluminum, 4% vanadium. This alloy has a tensile strength of up to 150,000 psi and a Brinell hardness value of 330.
Especially Hard Airspace Titanium Ti-6/6/2.
This is practically the strongest titanium alloy on the market. It is 130% stronger than Ti-6/4, making it the best choice for tension set rings. This alloy offers the highest resistance to denting and bending as in everyday wear.
Titanium 6/6/2 consists of 86% titanium, 6% aluminum, 6% vanadium, 2% tin. It has a tensile strength of up to 180,000 psi and a Brinell hardness value of 389.
Every titanium ring in our collection is also available in CP - Commercially Pure Titanium, Ti-999 (99.9% pure titanium). Although it is softer than Aircraft Grade it is far superior (strength wise) to traditional jewelry metals such as gold, silver and platinum. This grade is easier to work with, it is more pliable and has less "memory"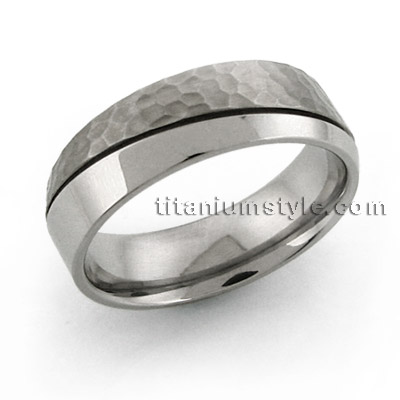 All grades of titanium are 100% hypoallergenic, not causing any allergic reactions, skin irritations or discolorations. Titanium rings are allergy free.
Can Titanium ring be removed in Emergency?
YES! Please visit our Titanium ring emergency removal page for general information.
Or visit our Ring Cutter page to order our Power Ring Cutting Kit, specifically designed to cut-off titanium, stainless steel, cobalt, and other hard metal rings.
Aircraft grade titanium rings vs. Pure Titanium rings
We believe that those considering buying titanium ring are interested in the metal because of its light weight, resistance to corrosion, and most importantly, for its strength. Keeping this in mind, we do recommend using the higher grades of titanium, such as 6/4 and 6/6/2. Much to the despair of other manufacturers claiming the contrary, the fact remains that these higher alloys exhibit higher tensile strength and resistance to demanding wear.
Aircraft Grade Titanium requires more labor to create an outstanding piece of jewelry as opposed to the basic grades (CP). In themselves 6/4 and 6/6/2 are costlier, tougher (wearing down tools used in their making), and take more time to machine, finish and polish, accounting for their increased value. The amount of work and craftsmanship that is put into our rings makes them of exceptional value and more precious than gold.
Using the Ti-6/6/2 alloy makes the piece truly timeless. This grade of titanium is extremely hard and difficult to work with, which is why not many jewelers offer it as an option for titanium rings. But this grade not only represents, but is in itself, the ultimate in strength. It is increasingly resistant to demanding wear, retaining its form and details for a lifetime (unless heartlessly abused).