Men's and Women's Titanium Wedding Rings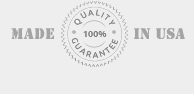 The Elegance of Titanium is in the Ring Finishes
The reasons to buy a titanium ring are fairly straightforward. They are one of the strongest and most durable rings, they are lightweight and extremely comfortable to wear, and they are hypoallergenic and very economical. So what could be the issue? More than likely, it will be trying to decide what finish you should choose! As you peruse our vast catalog of beautiful brushed titanium rings, popular milgrain titanium rings, traditional polished titanium rings or our satin finish titanium rings, your only problem will likely be trying to decide which one is the most beautiful and perfect finish for you.
Browsing through our exquisite collection of rings, it is obvious that whatever you purchase, our first and foremost concern is your satisfaction. For this reason, we offer every kind of possible finish that is available on titanium rings. Whether you are looking for a sophisticated look, like our satin finish titanium rings, or something that is flashier, like our high polished titanium rings, our selection is sure to please. With our large variety of designs, styles and finishes, we are confident you will find the perfect finish to complement your personality and discriminating taste.
Titanium Ring Finishes
There are several different ring finishes that are used to expose the radiance of the color and design of titanium. Our polished titanium rings are just as you would imagine. They are the shiniest, most reflective and eye-catching rings in the collection. Our brushed finish titanium rings are a bit more subtle, but the color of this exquisite silver finish is deep and dreamy. Brushed finish is often called satin finish for its look and feel of satin.

Our milgrain titanium rings consist of several different finishes with the classic grooved milgrain design edges, which are so very unique and popular with those who prefer a designer look. Of course, there are always our classic titanium rings—for those who love the elegant simplicity of the color, feel and fit of titanium in a classic ring design.
Can't Decide Between Polished or Brushed Finish? Select both!
It is very important to note that each and every ring in our collection can be ordered in a polished or brushed finish, with most of the styles being available in a dual finish. Our staff of expert jewelers makes all of our titanium rings, and we do our best to fulfill your desire if you would like a combination finish titanium ring. With this option at your fingertips, we are virtually offering you a limitless amount of styles, designs and finishes to choose from to satisfy every taste and personality.