Ceramic Black Tungsten Rings for Men and Women
Tungsten & Ceramic Ring Engraving | Lifetime Warranty & Sizing Guaranty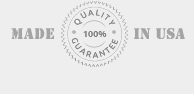 TitaniumStyle.com is a premier supplier of gorgeous, black ceramic bands with all the benefits of black tungsten and black titanium. Our rings remain true to US sizing standards, meaning you won't have to add or subtract sizes to find your perfect fit. However, should you need help with determining your size, we have a Ring Size Guide which you can view here.
If you need further assistance, please don't hesitate to give us a call at (800) 408-6756. Kindly contact us at your convenience and we will promptly get back to you.
Get the strength of black titanium and the toughness of black tungsten in a scratchproof ceramic ring that looks flawless even after years of wear. Black tungsten rings, as well as black titanium rings, are known for their beauty and uniquely bold look, but unfortunately, they just don't have the same qualities that black ceramic rings do. With black ceramic, you can have a wedding ring or everyday jewelry piece that is 100% cobalt-free, hypoallergenic, and guaranteed resistant to scratches and everyday wear and tear.
Tough Carbide Ceramic Bands
Black ceramic is a revolutionary space-age material with many of the aesthetic qualities of black titanium or black tungsten rings but is lighter than titanium and tougher than tungsten. Black zirconium ceramic has a metallic appearance and a solid black color that closely resembles black diamonds.
Similar to the striking look of black titanium and tungsten rings, it has a few special physical features that those black rings are lacking. Perhaps the largest benefit that black ceramic has over black tungsten or black titanium is the fact that ceramic rings are manufactured by mixing specially formulated high-tech ceramic powder with coloring agents. This mix is then baked using extreme heat and pressure to create a solid metallic black all the way through. This is just not the case with tungsten and titanium rings.
When you purchase black zirconium ceramic rings made from zirconia-based ceramic, you can count on having a piece of jewelry that will be around for a while, as the material has one of the highest strengths among ceramics available in the market today. Due to its light weight, toughness, and extreme resistance to abrasion, black zirconium ceramic is also an ideal material for advanced medical science and space technologies. Don't get the wrong idea, though. Black ceramic rings also have a beautiful appeal that would never make you think of a scientific or space-aged application.
Since they look so similar, people often wonder what the difference is between zirconium ceramic rings and black titanium or black tungsten rings. The team at Avant-Garde Jewelry does not work with any black titanium or black tungsten. Among a variety of reasons, perhaps the most noticeable flaw in black titanium is that the color is not solid. This is because black titanium rings are made of a special grade titanium that produces a thin layer of black deposit on the surface when heat-treated; it is important to note that this finish will eventually scratch off over time, showing white marks on black surface. The deposit is tough and somewhat scratch resistant, but with time, scratches will show.
Remember that rings made from black titanium or black tungsten cannot be refinished, which makes black ceramic the ideal alternative. It is clear why we only choose to use the premium material zirconium black ceramic for our modern, chic contemporary collection.
All of the black rings you will find in the Avant-Garde Jewelry Collection are made of black zirconium ceramic. They are scratch-proof; the material used measures a nine on the Mohs hardness scale, and only diamond or corundum abrasives can scratch these black zirconium ceramic rings.
While we do not offer black titanium rings, we do carry a line of titanium rings with black rubber inlays, so whatever type of black ring you're looking for, chances are we have it in stock or can create it for you. And if solid black isn't the look you're going for, check out our line of tungsten rings inlaid with ceramic, which offer yet another stunning look.
To learn more about our selection of black zirconium ceramic rings, contact us today!