Ring Size Guide and Fitting Help
Perfect Fit Every Time™ Finger Sizing
In order to ensure Perfect Fit Every Time™, we will send you a free sizing set with every new ring order.
Here is how it works: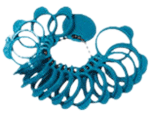 When placing the order, select the finger size, to the best of your knowledge, from the pull down menu, or leave it blank if you do not know your size at all.
2. We will mail you the Perfect Fit Every Time™ sizing set the same or next business day. Please allow 3-6 days for the sizing set to arrive. (1-3 days with the Rush Order Service).
Measure your finger (detailed instructions are included with the set).
Let us know the size.
Please submit your size:
Size Submission Form
Or by sending an email to
sales@titaniumstyle.com
We will confirm receipt via reply email within 5 work hours (M-F 9AM-5PM).
You can also submit the size by phone. Please call:
1-800-408-6756
(toll-free USA)
or 1-513-677-3777
(international)
Please note: Sizing set will be automatically sent with every new Titanium ring order, unless "DO NOT mail Sizing Set" check-box is selected.
If you are sure of your finger size and do not wish to receive the sizing set, please select "DO NOT mail Sizing Set" check-box, or e-mail us shortly after placing the order (you can simply reply to our order confirmation e-mail).
This will change our 14 day money back guarantee for our Titanium rings and 15% - 35% restocking fee will apply should you wish to return or exchange the ring(s).
Our Titanium rings are made to specific order. This allows us to offer our customers many choices of ring widths, finishes, inlays, stones, etc. So it is very important to start with the right size.
Our Tungsten carbide rings are pre-manufactured and can be exchanged quite easily if the size is incorrect. Sizing set will not be automatically sent for Tungsten ring orders, but you can still elect to receive it prior to the shipment of the ring. Not using the sizing set for tungsten ring orders will not affect our 14 day money back guarantee.
All our rings are made true to US sizing standard. You do not need to add or subtract anything to/from your size.
International Ring Sizing Help
All our rings are offered in US sizes.
You can convert British, French, German, Japanese, Swiss, sizes to US by following this link:
Ring Width
The pictures below show the width of the rings in millimeters (mm), however depending on your monitor and browser settings, they may not appear 100% to scale.
To help you get the accurate idea of the ring width, we've provided this printable page to help you select the correct width. To view the chart, you'll need Adobe Acrobat Reader. Don't have that installed? Visit Adobe's site to download and install their free reader.


Ring Width Chart (printable ring width chart)


Ring Thickness
How thick of a ring do you want? Do you like the feeling of a substantial ring on your finger or would you rather not know it's there? We offer three choices!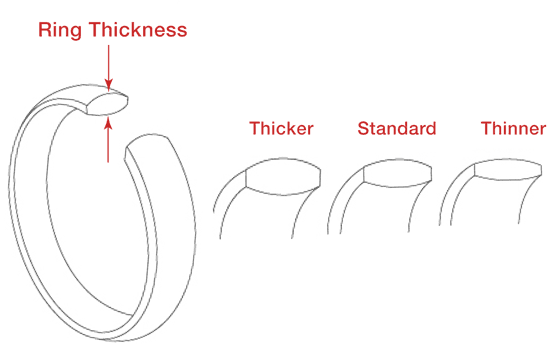 Standard: 1.8mm - 2.3mm.
We will select the best thickness, based on the style of the ring, width, finger size, etc, for a perfect balance between the look and comfort.
Thinner: 1.4mm-1.9mm depending on the style, width of the ring, finger size, etc. We will make the ring as thin as possible, without sacrificing integrity and appearance.
Thicker: 2.2mm-2.5mm depending on the style, width of the ring, finger size, etc. We will make the ring bulkier, but still keep the comfort of the ring in mind.
Since every titanium ring is made to order, you can even specify the desired thickness of the ring. When ordering, please use "comments" text box to request.
All our rings are made with the Comfort Fit feature. The inside of the ring (against the skin) is rounded for comfort.
Titanium Chains Length Guide