High Grade Inlay Titanium Rings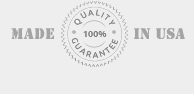 Create Custom Inlaid Titanium Rings With Titanium Style
There is nothing like a declaration of love and commitment than bestowing your loved one with a personal ring of your own design and choosing. Inlaid titanium rings make for ideal customizable pieces of jewelry to commemorate that special occasion, whether it is a birthday, an anniversary or a wedding that you want to make perfect. As a durable, stylish material, it is perfect for that unique expression of love and commitment.
Our titanium inlay rings are made from the highest grade and standard. We use an aircraft-grade titanium base and solid precious metal inlays. We take great pride in the fact that our rings are never plated or gold-filled, so you can be assured that we went to great lengths to craft your ring perfectly and with the purest materials. Titanium is an extremely long wearing metal compared to other traditional types of material used for jewelry, which make them quality buys and timeless gifts. Titanium does not stain nor does it deform, so it will always look as good as the first time you bought it, even years after you first slip it on.
Did you know that due to titanium's high resistance to corrosion, fatigue and cracking, it is a widely used metal for aerospace applications? Popularly combined with a variety of precious metals such as gold, silver or platinum for that unique and modern look, what other representation could this lightweight material have other than a partnership that lasts? Celebrate a timeless union with your loved one with our gold titanium rings.
Aside from the popular and usual choice of gold, our inlaid titanium rings also boast of stunning beauty when paired with platinum, yellow, rose or white gold. Sliver and black rubber may also be opted as an inlay material. Our titanium inlay rings are fully customizable, from choosing the titanium grade to the ring width and overall look, to the inlay material's width and positioning. Each component or design element may be altered to suit your taste to create the perfect gold or platinum titanium rings that you've always wanted on your loved one's finger. The look of your inlaid titanium ring is only limited by your imagination.
Whether you decide on titanium rings with gold, titanium rings with platinum, or a ring inlaid with your choice of precious metals, you can send us a message so we may assist you and give you a price quote. We also offer other pieces of jewelry such as tungsten rings which are available with ceramic, gold and platinum inlays.