Timeless, Unique Tungsten Rings for Men and Women
Tungsten & Ceramic Ring Engraving | Lifetime Warranty & Sizing Guaranty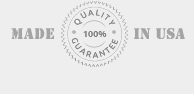 All of our tungsten rings are true to U.S. sizing standards. That means you don't need to add or subtract anything from your actual finger size. Men's and Women's sizes are always in stock!
Each Tungsten Wedding Ring Is Infused With Carbide and Guaranteed To Last A Lifetime
Avant-Garde Jewelry carries a selection of tungsten carbide rings and tungsten wedding bands, all of which are true to United States ring sizing standards. When you shop with us, you won't have to guess your actual ring size. If you need help with determining sizes or width, view our ring size guide to learn how to get the perfect fit.
Each tungsten wedding ring is infused with carbide and guaranteed to last a lifetime. Our tungsten rings are also cobalt-free, which is very important. Cobalt can cause an adverse reaction on the human body, resulting in skin rashes and discolorations as the oil from the skin bonds with the substance.
Each beautiful men's and women's tungsten ring you find in our collection is very durable, contains no cobalt, is true to USA sizing standards, and, did we mention, scratch-proof? These are just some of the reasons why many people choose tungsten carbide rings for their wedding bands; they will last a lifetime and then some. They also offer an exceptional style unlike any other material on the market.
Timeless tungsten rings make for a beautiful addition to any person's collection of jewelry. Sleek and stylish, these rings can go with other traditional types of jewelry such as gold and silver to give your whole ensemble that modern upbeat look. Inlaid rings are also available, combining tungsten and your choice of precious metal or even black ceramic for a bold, personalized look. Whether for a birthday, an anniversary gift, or a wedding band, our high-quality tungsten carbide rings are fine pieces that will look good on both men and women.
Engraving and Special Finish
If you're looking for a ring to be engraved, rest assured that engraving on your tungsten band will also stand the test of time because of the hardness and durability of the material. We offer engraving and custom finishes that include polished, brushed (satin), and dual (brushed center - polished sides) finishes.
Lifetime Warranty and Sizing Policy
Every item you purchase from Avant-Garde Jewelry is covered by our lifetime warranty and size replacement guarantee, so rest assured that this is the right ring for you. Click here to learn more about our lifetime warranty for tungsten rings.
If you are thinking about purchasing one of the tungsten wedding bands in our collection, remember that all our jewelry pieces are true to United States sizing standards, so there is no need to worry about how the ring will fit, whether this is your own wedding band or if you are purchasing a gift for someone else.
All of our wedding bands are made with the comfort-fit feature to ensure optimal comfort for continuous wear.
Can Tungsten Carbide Rings Be Removed in an Emergency?
YES! Please visit our tungsten ring emergency removal page for more info and video demonstration.
In an emergency situation, if there is a medical necessity to remove the band (such as a hand or finger injury), you can do so by cracking the ring into pieces using standard vice grip locking pliers. The same technique is used for removing ceramic and natural stone bands.
Premium Jewelry You Will Wear a Lifetime
Avant-Garde Jewelry carries high-quality tungsten rings in stylish, modern designs that can give your precious gift or wedding band a one-of-a-kind look you won't find anywhere else. For more information about our tungsten wedding bands, call us at (800)-408-6756 today.