Titanium Cross Necklaces, Crucifix Pendants and Dog Tags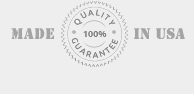 Titanium Crosses and Crucifix Necklaces
At Titaniumstyle.com, you'll find a myriad of gorgeous titanium chain necklaces, pendants and many other items to complement your look. We offer a collection of crucifix pendants, dog tags, and other unique necklace items, perfect for any style.
Titanium Cross Necklaces
There is nothing like the inimitable beauty of a titanium cross necklace. All of the titanium cross necklaces in our collection are specially designed with an opening at the top of the cross to fit the chain through. This provides a clean and modern look, and also keeps the titanium chain from tangling during wear. Since our cross pendants are constructed in one piece without any bail or jump-ring, there is nothing that will break off or snag on your clothes.
Contemporary titanium crosses for men and women expertly handcrafted in solid titanium. Our titanium crosses are lightweight, exceedingly durable and constructed from nothing but pure Titanium. A titanium chain fits easily through the pendant.
All of our specially designed cross pendants are available in a high polish finish or brush finish (also known as satin finish). If a chain is ordered with the cross, it will have a matching finish.
Star Of David Necklaces
Our contemporary style Titanium Star of David combines the timeless beauty of the traditional Jewish decorative motif with an elegant modern design.
We also carry titanium dog tags, which are a growing trend at the moment. Not only are these titanium chains and dog-tags in style, they are also strong and lightweight so they are extra comfortable. Each titanium dog tag has a polished finish on one side and a satin finish on the other side, with a solid construction that allows for engraving on either side.
For more information on our collection of cross necklaces and titanium dog tags, contact us today.