Wedding Bands for Men
When shopping for wedding bands for men, titanium should be considered. As men are traditionally much harder on their jewelry than women, a durable material such as titanium is ideal for their wedding bands.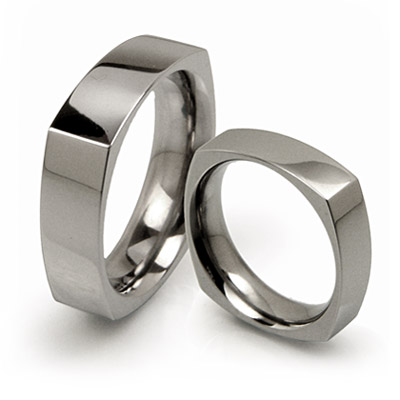 Titanium is one of the hardest natural elements produced. Much like platinum, it is nearly indestructible and commonly used in the manufacturing of jet planes and automobiles and space shuttles. That legendary toughness is the same reason it is perfect for wedding bands for men. Titanium is resistant to bending, breaking, or deformation, even under extreme circumstances. The hard surface is almost impossible to scratch or nick. If any marring appears on the surface, it is generally shallow and can easily be buffed out smooth.
Titanium's weight is another reason it is a good choice for wedding bands for men. Titanium, despite it toughness, is extremely lightweight. In fact, it weighs only about a third of what yellow gold does. Even better, while titanium's features are comparable to platinum, it costs only a fraction of what platinum does.
Titanium Style is an Ohio-based jewelry store which specializes in titanium and tungsten jewelry. They started out as a small shop which mostly dealt in local, custom orders. However, as the popularity of titanium and tungsten jewelry grew, they expanded to keep up with the demand. Today, they have a staff of talented craftsmen creating premium jewelry for customers worldwide.
When customers long on to their website at www.titaniumstyle.com to peruse their line of jewelry, they will discover a multitude of choices in wedding bands for men. Titanium and tungsten carbide rings are all made using the highest grades of the metals available. They have three grades of titanium to choose from: Aircraft grade Ti-64, the hardest alloy Ti-662, and pure titanium Ti-999. Their tungsten rings are actually constructed out of a blend of two natural elements, tungsten and carbide. When these two alloys are fused together, using boiling heat and extreme pressure, it results in the hardest material obtainable. All of Titanium Style's rings are hallmarked with their specific grade and type of metal and their karat mark, guaranteeing the purity and quality of the alloys used in their formation.
Grooms are able to select the band width as well as any additional features they would like, including adding an inlay of another metal, grooves, or beveled edges. They have many contemporary styles with black rubber or ceramic inlays. Titanium Style also offers a variety of finishes and custom engraving.
All of Titanium Style's jewelry comes with a Certificate of Authenticity and a Lifetime Warranty, which allows their customers to shop with complete confidence they are purchasing a quality piece of jewelry. When considering wedding bands for men, titanium rings from Titanium Style combine durability and affordability in one attractive package.