Zirconium Ring
Who doesn't want a custom wedding ring, designed especially for them? However, many cannot afford this type of jewelry design service in a traditional ring. A black zirconium ring may be the perfect solution for your wedding bands. These beautiful rings combine style and class with affordability and longevity in a completely customizable ring.
Today's engaged couples are seeking ways to make their wedding represent not only their love and commitment, but also their personalities. Shouldn't the rings they plan to wear for eternity also represent their own personal style?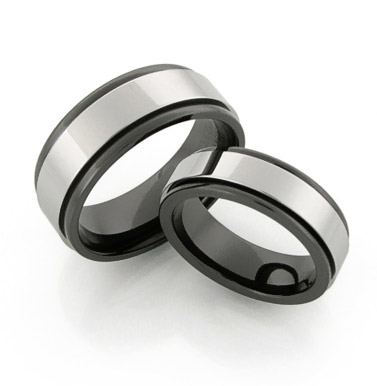 Avant-Garde Titanium has been specializing in custom jewelry created of titanium and tungsten for years. As these metals are nearly indestructible, at only a fraction of the cost of platinum, they have soared in popularity.
At Avant-Garde, you can purchase zirconium rings created in a variety of styles. Avant-Garde even inlays tungsten and titanium rings with black zirconium ceramic, resulting in a truly original look. A titanium or tungsten/ zirconium ring will display unbelievable resistance to bending, breaking, deformation, or tarnishing.
As opposed to softer metals, gold or silver, a zriconium ring will not easily become scratched or nicked. If it does exhibit any signs of markings on its surface, they are shallow in nature and easily buffed out. Black zirconium ceramic has a highly polished, mirror-like finish.
Not only are these rings durable and practical, they are also extremely attractive. You can customize your zirconium ring with an engraving or and/or brush (satin) finish.
Avant-Garde also offers many design options for your tungsten or titanium zirconium ring You can start by selecting an edge design or to add grooves for dimension. Optional features include the addition of an inlay of a contrasting metal. Inlays are available in yellow gold, white gold, rose gold, silver platinum, or white gold. Complete the look of your new ring by selecting the perfect finish. Choose from a shiny, smooth, polished look or a classy, brushed satin. Combine the two with brushed edges and a shiny inlay.
Avant-Garde puts a great emphasis on customer satisfaction and offers a 14-Day Money Back Guarantee. Their team of crafters treats every piece as a work of art and want their customers to be completely satisfied with the design and quality of their purchase.
Each piece of jewelry purchased from Avant-Garde comes with a Certificate of Authenticity and a Warranty Card. The Warranty Card provides the customer with a Lifetime Warranty for their purchase and protects them against any manufacturer or material defects.
For an affordable, custom-made addition to your wedding day, shop Avant-Garde Titanium for your zirconium ring.