Tungsten Or Titanium Ring?
If you are in the market for a new band, consider purchasing a tungsten or titanium ring. Known as the hardest elements on the earth, tungsten and titanium are both excellent alloys for making all types of jewelry, especially rings. But which should you choose? Learn the benefits, advantages and disadvantages of these hard metals!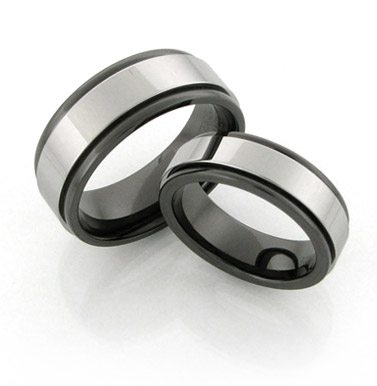 Tungsten rings are scratch proof
Nothing says "I will love you forever" better than Tungsten wedding bands. They truly stand the test of time. Tungsten wedding bands are some of the most durable, scratch resistant wedding bands on the market today.
As most people work with their hands in some fashion, rings bear the brunt of the wear and tear. Softer, more traditional metals, such as yellow gold or silver, become easily marred with scratches and nicks. Sometimes they even become bent and misshapen to the point they no longer slide on and off the finger easily. A tungsten or titanium ring, on the other hand, will resist any breaking or deformation. The hard metal is also resilient against scratches or nicks in the surface. If any marring does occur, the ring can easily be buffed and the flaws disappear, restoring the ring to a like-new appearance.
At Avant Garde, they make their tungsten and titanium jewelry with the highest quality materials. A tungsten band is actually constructed out of a blend of two natural elements, tungsten and carbide. When these two alloys are fused together, using boiling heat and extreme pressure, it results in a nearly indestructible material. All of their titanium jewelry is made from the highest grades of titanium available.
Titanium ring can be customized
Choose from aircraft grade titanium (Ti-64), extra hard airspace titanium (Ti-662) or pure titanium (Ti-999). A titanium ring will weigh in at only about a third of the weight of a comparable tungsten ring.
Titanium ring can be customized to reflect your own unique taste and style. Optional design features can include inlays of other metals. The rich silver color of the tungsten or titanium can be contrasted with a bold inlay of yellow or rose gold, or complemented with a more subtle inlay of silver, platinum, or white gold. The inlays can be deep set in channels in the center of the ring or raised, both resulting in a completely different look. Edging choices include domed, pipe-cut, or beveled, each changing the appearance of the completed band. Finishes are available in a shiny, smooth polish, or brushed satin. You can even choose to mix it up and have brushed edges and a shiny inlay.
Due to the hard surface of a tungsten or titanium ring, custom engraving can be added, but only with a special laser and diamond engraving machine. However, Avant Garde does offer the addition of a personal message to your new band.
Shop with confidence at Avant Garde, as your new tungsten or titanium ring comes with a Lifetime Warranty, which protects you for the life of the band. They also offer a Lifetime Refinishing Policy that allows you to have your tungsten or titanium ring cleaned and resurfaced up to two times per year at no additional charge, ensuring your new ring will retain its stunning appearance!