Titanium Wedding Rings for Your Special Day!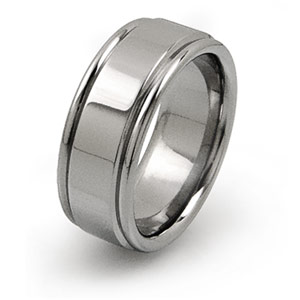 Why should you consider titanium wedding rings? If you are getting married soon and have been looking for the perfect rings to symbolize your love, you have probably already discovered that the price of gold and platinum wedding bands has skyrocketed. Fortunately, you have a choice with titanium.
What if you could get all the beauty of the finest platinum wedding rings at a fraction of the cost? With titanium wedding rings you can have just that. It's no wonder that titanium wedding bands have had a sudden burst of popularity in recent years.
What makes titanium wedding rings so special? Besides being incredibly affordable, titanium rings are strong and nearly indestructible. Platinum and gold are soft metals easily scratched and worn down. Titanium rings will stand up to the wear and tear of everyday life far better than rings made of platinum or gold without tarnishing or bending.
Titanium wedding rings are also perfect for people who are active in sports, work with their hands or are just generally hard on their jewelry. Titanium rings can take a lot of abuse without losing their shape, becoming scratched or denting.
Another benefit to titanium is that while it has great strength, it is very lightweight. Only about a one-third of the weight of gold, titanium is so comfortable to wear, you may forget you have it on.
Titanium wedding rings are the best choice for anyone who is sensitive to metals. Titanium is hypoallergenic and is often used in medical applications. If titanium won't cause a reaction when used inside the body for a total hip replacement, you can be pretty sure that your titanium ring won't give you a rash or turn your fingers green.
Unlike other metals, titanium will not corrode or tarnish. Titanium can maintain a beautifully polished shine for a lifetime. Whenever it is necessary, polish the ring's surface to rejuvenate the shine.
Titanium wedding rings are available in a wide variety of finishes and styles. Whether you want modern or traditional styling, just about any design you can imagine can be recreated in durable titanium. Titanium rings often feature inlays of other precious metals or even gemstones. You won't have to give up quality or style to get the affordability of titanium.
A wedding band is meant to symbolize a love that has no end; a perfect circle that goes on forever. What better symbol of enduring love could there be than a ring that stays beautiful for a lifetime.
Find your perfect wedding bands at Titaniumstyle.com today. At Titaniumstyle.com, you can buy with confidence knowing that your titanium wedding rings will still shine just as brightly in fifty years as they do today.