Titanium Wedding Ring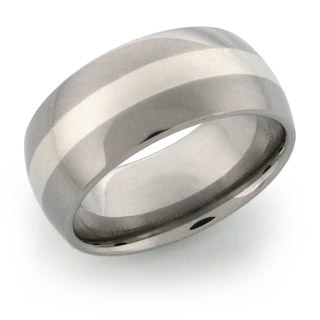 The titanium wedding ring is a magnificent piece of jewelry for guys or gals looking to tie the knot. Every ring is unique in its style and can be engraved for that loved one. Avante Garde Titanium is a company for the modern day individuals who know what they want in their jewelry for themselves and others for that special gift. For the contemporary Cinderella and her prince, these fascinating pieces of metal are shaped into different designs for various looks. Our passion is to create distinctive rings that will please our clientele.
Each exceptional titanium wedding ring is ready for you and your sweetheart. Set the date and place your order. Cakes, napkins, DJ's and room rental all have their moments of trials and tributes, but not your ring order. We are fast and provide quality service as well as a superior product to reduce the stress in planning your wedding. Our shipping turnaround is quick for our engraving process. You can get your ring made, try it on and then when its returned to us, we will engrave it and get it right back to you. And there is only one shipping charge for it.
The Tungsten or titanium wedding ring can be custom made. There are inset stones from rubies, to black rubber to topaz for your ring. For those who love a bit of silver or gold, there can be a thread running around the band in a thin width or wide depending on the look you want to achieve. Another option is to have the hammered style that looks like teeny tiny pebbles or the appearance of a hammered look that uses the end of a ball peen hammer and a third kind has thin, but deep grooves. Any of these custom made titanium wedding ring sets can be done just for the both of you.
As you give a gift for your wedding party such as the bridesmaids and groomsmen, there are beautiful pendants or bracelets for them in our collection that will match their personality. Each one can be engraved with a block or italic style font to commemorate this wonderful day of joy. Saying such as 'Your friends means the world to us' or 'We are glad you could share in our day of joy' are perfect for such an occasion. These gifts are not only exceptional, but affordable. Imagine your little flower girls delight when she opens the box to see an engraved bracelet made just for her. Everyone's day will be special with these incredible pieces of jewelry. Each titanium wedding ring is made to fit just you when you become our client and our goal is to give the best customer service to you.