Titanium Wedding Bands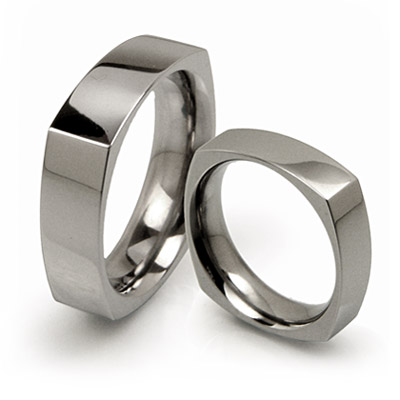 Titanium wedding bands have experienced an explosion of popularity in the past decade. This has happened for several reasons. The main reason: titanium wedding bands are stronger than gold or platinum. In fact, they are virtually indestructible. Wedding bands made from titanium are able to stand up to the rigors of daily life better than rings made from other precious metals. Titanium has become a favorite for people who would normally avoid wearing rings because they are hard on their hands. If you work with your hands or participate in sports, you will find that titanium rings hold up to an incredible amount of wear and tear without bending, denting or scratching.
Additionally, titanium wedding bands are lightweight and comfortable to wear. Considering its incredible strength, it is surprising just how lightweight titanium actually is. It is so lightweight that it has revolutionized the aerospace industry. Since it is stronger than aluminum but similar in weight, titanium has become the chief component in many types of aircraft, even space shuttles. At only one-third the weight of gold, titanium rings are extremely comfortable to wear. You can hardly tell you are wearing a ring at all.
Titanium Wedding Bands are 100% Hypoallergenic
Another advantage to titanium wedding bands is that they are 100 percent hypoallergenic. Now even people with sensitive skin or metal allergies can wear a wedding band without risk of skin irritation or other allergic reaction. Titanium is non-reactive and has been used for many medical applications without risk of rejection. It is used extensively for joint replacement therapy and is now even being used for pacemaker housings.
Titanium will not corrode and will not tarnish like silver. It maintains a polished shine that can easily be rejuvenated when necessary. A side benefit to titanium wedding bands is their amazing price. With such durability and incredible beauty, you would expect titanium to carry a hefty price tag. Titanium is reasonably priced. Quality titanium wedding bands are only a fraction of the price when compared to gold or platinum wedding bands.
Even with incredible prices, you won't have to sacrifice beauty or style when you purchase wedding bands made from titanium. Titanium gives you the same luxurious look of platinum and comes in a wide variety of styles and finishes. Whether your taste is more traditional or contemporary, you are sure to find the perfect titanium wedding bands for you and your spouse.
If you are ready to discover titanium for yourself, visit TitaniumStyle.com today. Check out all the beautiful options available to you in durable titanium. If you want your rings to be as enduring as your love, titanium wedding bands are only a click away.