Titanium Rings For Men
For centuries, wedding bands have served a purpose of labeling a person as one who is married. Wedding titanium rings for men and women make a statement to the world of this marital commitment, whether fashioned simply from vines and flowers to elaborate stones fit for a queen.
Wedding titanium rings for men and women are generally not only an affordable purchase, but also one that is given a great deal of thought and consideration. As one is hoping the marriage is forever, brides and grooms would expect their wedding bands to also exhibit endurance.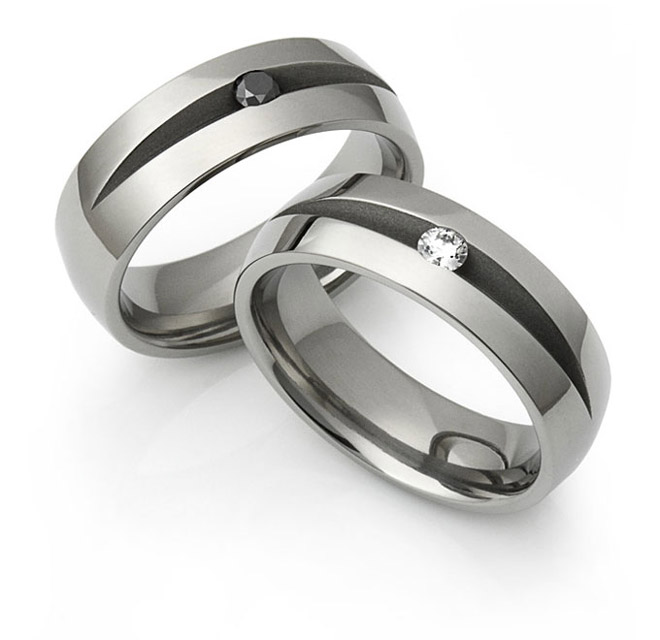 Matching titanium rings for men and women - White and Black Diamond
Many couples opt for matching sets or at least similar styles of rings to complement each others. On the other hand, other couples search for a ring they feel represents their own personality and individual style.
While brides are often looking for the sparkle and shine, with things like princess cuts and baguettes invading their doodles and daydreams, the grooms tend to lean towards the more simple rings. Many men even opt not to wear one, especially if they work in a trade in which working with their hands could result in damage to the ring.
A solution to this long time dilemma has presented itself in the form of titanium rings for men and women. These natural elements have quickly earned a reputation as an option which is not only stylish and durable, but also affordable.
Avant-Garde Titanium Company started out as a small, Ohio-based jeweler, which created custom jewelry at a local level. As the popularity of these inflexible metals has grown, so have they; now servicing customers worldwide through their easy to navigate website.
Aircraft Grade Titanium Rings for Men
Avant-Garde constructs their mens titanium wedding bands from aircraft grade Ti-64, the hardest allow Ti-662, and pure Ti-999. Either choice produces titanium rings for men and woman, which are resilient to bending, breaking, deformation, and tarnishing. The hardness of the metals does not easily retain scratches or nicks in the surface and if any do appear, they are shallow and easily buffed out.
These don't have to be plain bands, though. They can be dressed up with beveled edges, grooves, or even inlays of other metals. Jeweled stones could also be added for the groom wanting to add some color. Finishes can be applied for a smooth or brushed appearance, or perhaps even a hand-hammered look is desired.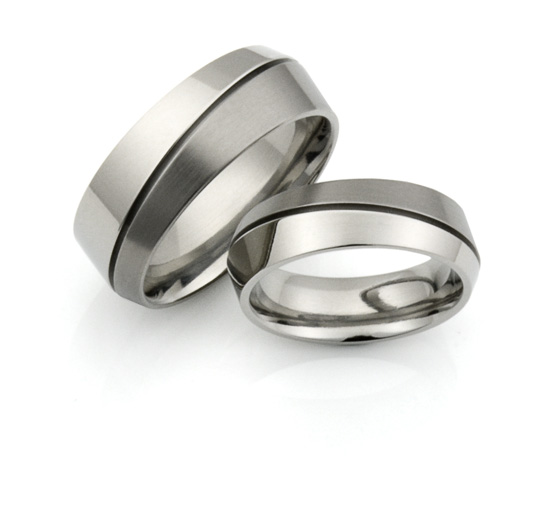 Even though both titanium and tungsten are exceptionally hard, Avant-Garde does provide custom engraving using a special inside ring engraving machines, allowing a personal message to be added to the inside of the band. Titanium rings for men and women from Avant Garde are the perfect choice for your special day.