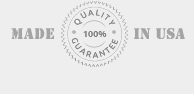 Military Style Titanium Dog-Tags for Men and Women
We carry gorgeous titanium dog tags in two styles. Traditional jewelry style (with bail), and Military style (without bail). These hot jewelry pieces will complement any style or look that you're putting together. The titanium appearance looks good with anything, and these dog tags are sexy and trendy.
Our titanium dog tags are made in the USA. You can be assured that they are top quality. We work hard to bring you our titanium jewelry pieces, and we're proud to be able to fulfill your jewelry needs with an American made product.
Titanium dog tags are available in polished and brushed finish. You can order your dog tag with a titanium chain, which is sold separately. We have a large variety of chains, so you can have different looks for different occasions or to accessorize different outfits, or match or contrast to other jewelry choices. All in all, this titanium dog tag is a very versatile piece of jewelry.
Because our dog tag is made of solid titanium, it can be engraved. A specialty engraving store, which can usually be found in just about any mall, has computerized equipment than can engrave text and even graphics, and they usually have a pretty quick turnaround time. This beautiful piece of jewelry can become a sentimental piece that is treasured for a lifetime, with just the right message engraved on the finished surface. Our titanium dog tags are light weight and durable, so you can wear them all the time, ensuring that you always have a reminder of that special moment or sentiment with you!
Our titanium dog tags and titanium chains are hypoallergenic, and are safe to wear against the skin, even for nickel allergy sufferers. There will be no skin discoloration or other reaction from wearing our pieces. While even high carat gold may contain trace amounts of nickel and cause skin reactions, our solid titanium jewelry does not contain any nickel, so your skin will be safe. Many people who can't wear other metals usually find they have no problem wearing titanium.