Titanium Star Of David Necklace
Perfect Symbol for Jewish Faith & Culture
Looking for the perfect gift for somebody special in your life? Our stunning titanium Star Of David necklaces provide the perfect combination of beauty and class, and will last a lifetime.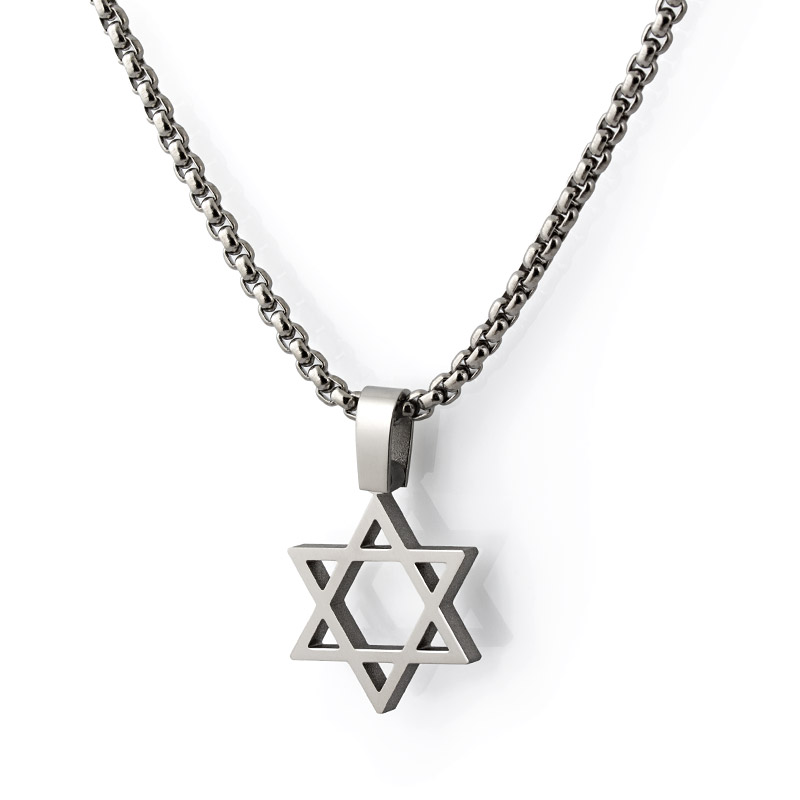 Titanium is lightweight, durable, and very comfortable for everyday wear. It is 100% hypoallergenic, meaning no irritations, discolorations or allergic reactions of any sort. Safe for even the most sensitive skin.
Man wearing Titanium Star Of David necklace
Selecting Chain and Finish for Your Magen David
A classic, box titanium chain (pictured below) is an excellent choice for both men and women. This beautiful chain is surprisingly light-weight and has a sturdier appearance than some of the other titanium chain styles. Other unique looking designs such as ball, rope, or oval link are also available. An especially manly option is the curb chain - makes a wonderful Bar Mitzvah gift.
Our Magen David has a sandblasted finish on the sides. For the face you can select either Polished or Brushed finish. Sandblast finish is achieved by propelling a stream of abrasive beads under high pressure on the surface of titanium. The result is a very unique matte finish with a subtle spark to its charcoal-colored tone. Sandblast finish has a somewhat rougher texture, but is still very smooth to the touch. Select Polished finish for the face to have a contrasting look, or brushed finish if you're not interested in the sparkly shine of a polished titanium.