Mens Titanium Necklace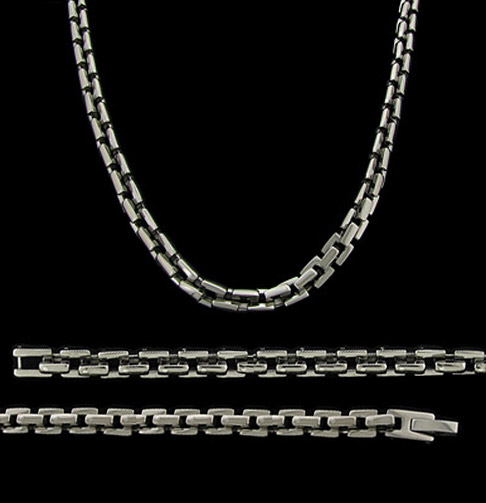 If you a man who enjoys wearing a stylish piece of jewelry, you should take a look at a mens titanium necklace designed by Avant Garde.
Avant Garde is an Ohio based jeweler which specializes in creating custom titanium and tungsten jewelry. All of their jewelry is handmade from the highest grade materials. Whether you are looking for a mens titanium necklace, bracelet, or ring, they are sure to have a design which will appeal to you.
In making a mens titanium necklace, their expert crafters start with the pure titanium, also known as Ti-999. This durable metal is used to form each of the links in the chain, as well as for the lobster clasp. Titanium is an ideal material for jewelry due to its extreme toughness. The natural alloy is harder than gold and silver and resistant to bending or breaking. Any scratches or nicks which may occur on the surface are shallow and can easily be buffed out. As necklaces made of other materials often incur breakage due to getting caught on things, choosing titanium is a great way to insure a long-lasting piece of jewelry.
Another appealing benefit of titanium is how incredibly lightweight it is, weighing in at less than a third of other metals. As men tend to choose wider style chains, titanium is an attractive choice.
You may have difficulty deciding on which is your favorite style of mens titanium necklace, there are so many options to choose from. You will want to consider the desired length and width first. If you are looking for a wider, bulkier chain, the Classic Curb Style Titanium Chain may be the best fit. Choose from large, medium, or small sized links, with the large measuring at 7 mm and the small at 2 mm. Another more masculine choice is the Box Style Titanium Chain. This chain has bold square links and measures in at 6.8 mm wide.
Other classics, such as cable or rope styles, are also available. If you are looking for something more unique, look at the Figaro or oval chains. An especially unique design is their Titanium Ball Chain. This mens titanium necklace is created in exact Military design, and includes Military style connectors and a barrel clasp. To complete the look, purchase a military style Titanium Dog Tag to display on the end of your new chain. The tags are polished shiny on one side and have a satin finish on the other. The tags can be engraved on one or both sides. Avant Garde also offers a selection of titanium cross pendants to complement their titanium chains.
Avant Garde committed to the quality of all of their jewelry and illustrates this with their 14-Day Money Back Guarantee and their Lifetime Warranty. The 14-Day Money Back Guarantee makes certain you are satisfied with your new purchase. The Lifetime Warranty protects you against any manufacturer or material defects throughout the life of a mens titanium necklace and other jewelry purchased from Avant Garde's website www.titaniumstyle.com