Designer Titanium Necklaces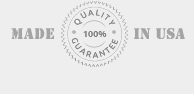 Ball, Cable and Figaro Chains for Men & Women
Avant-Garde's titanium jewelry collection includes a series of specially designed necklaces that are so unique they deserve their own category. Our special design titanium necklace series includes the Figaro Chain, Cable Chain and Ball Chain.
Each of these necklaces is fitted with a Ti clasp and the entire length of the chain is constructed from pure titanium. You can also choose the length that works best for you the specially designed Cable Chain comes in lengths ranging from 16 to 24 inches, while the Figaro Necklace and Ball Chain are available in lengths ranging from 16 inches to 30 inches.
The Titanium Ball Chain is particularly unique as it is constructed in the exact military style design and comes with a military style connector.
Every special design titanium necklace that we offer is polished and hand-finished. If you prefer a satin (brushed) finish, just request this option when you place your order. We stand behind the quality of each piece of titanium jewelry we offer all of these titanium necklaces are hand crafted and come with a lifetime warranty.