Cheap Titanium Rings
Cheap in price doesn't mean cheap in quality!
Titanium rings are comparable to platinum, with their smooth, silver color and unbeatable durability. However, they cost a fraction of what platinum does.
Browse our online selection of inexpensive titanium rings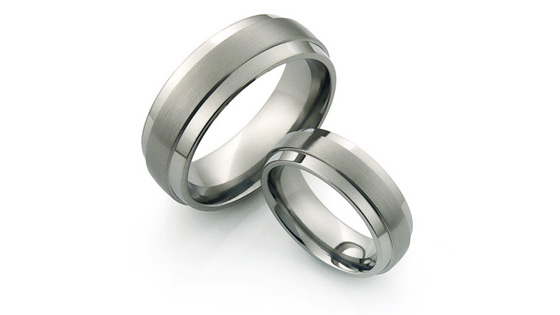 Customers shopping for Top quality but cheap titanium rings, will appreciate knowing all of bands from TitaniumStyle.com are created by starting with the highest grades of titanium available. Titanium is known for being nearly indestructible. The hard metal is resistant to bending, breaking, or deformation, even under extreme conditions. Titanium bands maintain a "like-new" appearance over time, as they don't retain scratches and nicks the way traditional metals do, such as yellow gold. Any imperfections noted are generally shallow in nature and easily buffed out.
Infinity, Semi-Domed and Hammer Finish Titanium Rings are perfect ideas for inexpensive wedding bands, cocktail or anniversary rings.
For the buyer looking for unique, but cheap, titanium rings are perfect! With their increased popularity, more and more designs have become available. Long gone are the days of plain, simple bands. Today's titanium rings come with lots of options for customizing.
For starters, a popular choice is to enhance the ring with an inlay of another precious metal, such as yellow, rose, or white gold, or even platinum or silver. This inlay results in a band of bold, contrast (yellow gold) or subtle complimentary color (platinum), which breaks up the titanium and creates an entirely new look. Grooves can also be added to the band, with an inlay or without.
Customers choose from a variety of edges, from a classic domed shape to a more squared off look, to unique hand sculpted rings, such as these beautiful aircraft grade titanium infinity rings.
Finishes are also custom. A shiny, smooth surface remains a classic choice, while the brushed satin is a more modern look. Titanium Style also offers a hand hammered finish which gives the band a rougher, textured look. A combination of finishes, for example hand hammered edges with a shiny inlay, results in a completely unique band.
While not as chip, titanium rings can also have jeweled stones added to them for a burst of color. Titanium Style offers two methods of adding gemstones to their bands. Direct setting places the stone into the band, where it sits flush. Currently, however, tension setting is a popular technique and titanium is the ideal metal for it. With tension setting, the jeweler uses the pressure of the edges of the band to hold the stone in place, making it appear as if it is floating in the middle.
All titanium jewelry created by Titanium Style comes with a complete Lifetime Warranty, demonstrating their complete confidence in their product. It isn't often a consumer can expect such an extraordinary quality and still enjoy low prices. Titanium Style combine class and durability with affordability.