Tungsten Rings
If you haven't discovered Tungsten Rings yet, then you are missing out on one of the biggest innovations that the jewelry industry has seen in recent history. Imagine the joy of having rings that won't scratch, won't tarnish, and won't bend out of shape. Not only are Tungsten Rings the toughest wearing rings on the market today, they will also maintain a brilliant polished finish for life.
Tungsten, an inorganic element, has long been used in industrial applications for both its strength and heat tolerance. Tungsten's high heat resistance, for instance, makes it perfectly suited for use in the filaments of incandescent light bulbs. Four times stiffer than steel, tungsten also has many practical applications when used in the manufacture of various tools.
It was not until the simple discovery that tungsten combined with carbon could create a metal alloy that is not only much stronger than gold or platinum but also beautiful and virtually scratch proof that tungsten was considered for use in the jewelry industry.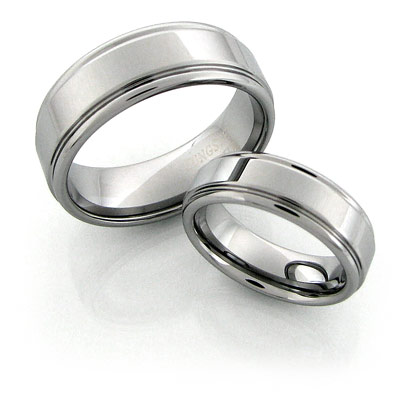 Men's Wedding Rings Made from Tungsten Carbide
Today, Tungsten Rings are enjoying an amazing burst in popularity. People everywhere are discovering the beauty and affordability of this amazing metal. Truly an innovation for the 21st century, Tungsten Rings are the perfect solution for people who want a beautiful ring that can stand up to the rigors of an active, modern lifestyle.
There is no need to sacrifice beauty to get the function and affordability of Tungsten, even on your wedding day. Tungsten Rings represent some of the most beautiful wedding bands available on the jewelry scene today. With a full range of styles to choose from, whether your preference is modern or traditional, you are sure to find your perfect ring design crafted in durable tungsten carbide.
Wedding bands of tungsten carbide are the perfect symbol of enduring love. They are guaranteed to look just as beautiful on your fiftieth anniversary as they did when you said, "I do." Even tungsten carbide wedding bands with beautifully etched designs will not become scratched or worn over time.
For the best selection of Tungsten Rings on the web, visit Titaniumstyle.com. These rings are cobalt free and hypoallergenic and won't discolor or cause skin irritations. You can't go wrong when you choose your wedding bands from Titaniumstyle.com. They are true to size and guaranteed for life.
Not only are wedding bands made from Tungsten Carbide beautiful and tough, they are also extremely affordable compared to rings made from other precious metals. As the price of gold, silver and platinum continue to rise, Tungsten Carbide remains affordable. With prices fifty to seventy five percent less than comparable rings made from gold or platinum, and all the beauty and style of much more expensive rings, Tungsten Rings are the perfect choice.