Tungsten Or Titanium Wedding Bands?
Titanium rings are hypoallergenic.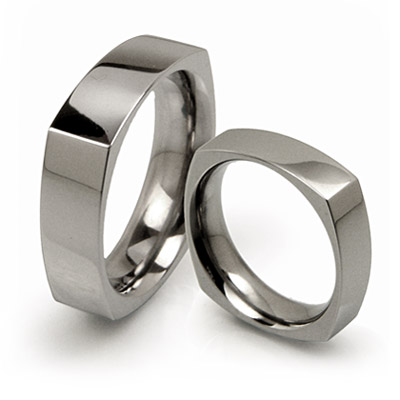 Tungsten rings are scratch proof.
Learn the benefits, advantages and disadvantages of these hard metals!
Engaged couples should consider the benefits of a tungsten or titanium wedding band when shopping for rings for their special day. A wedding band is not only a symbol of the commitment between the two, but can also be a big investment financially. As it is a lifetime commitment, one would obviously expect the ring to last a lifetime as well.
Shoppers will discover that a tungsten or titanium wedding band is comparable to a platinum band in durability and appearance. All three metals are a smooth, silver color, with tungsten or titanium a slightly richer hue than the platinum.
Tungsten and titanium are also nearly indestructible materials. A tungsten or titanium wedding band will resist any bending, breaking, deformation, or scratches, guaranteeing it maintains a like-new appearance for years.
However, unlike platinum, tungsten and titanium are more affordable, costing only a fraction of platinum. These tough metals are also surprisingly light-weight. In fact, they weigh only about a third of the weight of traditional yellow gold.
The durability of a tungsten or titanium wedding band makes it an especially attractive option for men, as they tend to be harder on their jewelry. However, as it has grown in popularity, many jewelers are creating designs for women as well.
At Titanium Style, an Ohio based jeweler, they specialize in making custom titanium rings and titanium jewelry. Their website, at www.titaniumstyle.com allows visitors to browse the full line of jewelry and view the variety of looks which can be created. With so many custom features and options, each ring is unique and can truly express the taste and style of the individual who will wear it.
They use only the highest grade materials to form their jewelry. They have three grades of titanium to choose from: Aircraft grade Ti-64, the hardest allow Ti-662, and pure Ti-999. Their tungsten rings are actually constructed out of a blend of two natural elements, tungsten and carbide. When these two alloys are fused together, using boiling heat and extreme pressure, it results in the hardest material available. All of Titanium Style's rings are hallmarked with their specific grade and type of metal and their karat mark, guaranteeing the purity and quality of the alloys used in their formation.
Every tungsten or titanium wedding band created by Titanium Style are hypoallergenic and come with a Certificate of Authenticity and a Lifetime Warranty card. The Lifetime Warranty protects the buyer in the event of manufacturer defects, including breakage, deformation, bending or denting. A free sizing set is provided with ring orders, to ensure a perfect fit. Fast production and delivery time are also guaranteed.
For any couple looking for the perfect ring for their perfect day, a custom tungsten or titanium wedding band from Titanium Style is the right choice.