Tungsten Carbide Wedding Rings - Indestructible Jewelry!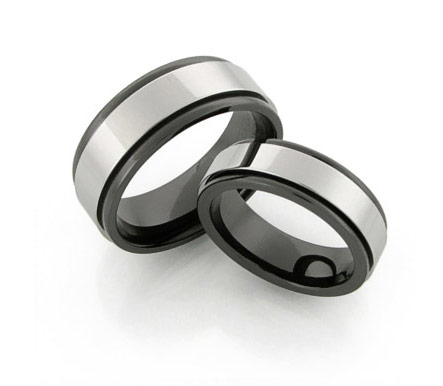 Tungsten carbide and black ceramic wedding rings.
We craft and make Titanium and Tungsten Carbide jewelry just for you. As you look through our fantastic pages of rings, necklaces and bracelets keep in mind that they can be custom made too. Special occasions such as Mothers Day, birthdays, anniversaries or your wedding, we can design something amazing! Give us a few guidelines as to your liking and we will work with you to make your dream a reality. There is an engraving option for your perfect piece.
Tungsten Carbide jewelry are unique and beautifully crafted pieces that you can give as a gift to that special someone. This durable, shiny Tungsten carbide alloy (metal) is one of the toughest pieces you will find. It also will last from the day you say I do to your 50th wedding anniversary and look as beautiful as the day you slipped it onto each other's finger. The amazing reality is that scratches will buff out easily and the only thing harder than it is diamonds and corundum abrasives. Affordable and pretty are two reasons to choose tungsten carbide jewelry over softer metals.
Avante Garde has over 20 tungsten carbide jewelry pieces that are rings. There are a few choices to pick from such as a polished look, dual design which looks like two tone or the satin (brushed) finish. Each one has a unique look that depending on your style. As a modern bride and groom whether young or mature, they can match your type of personality.
One of the rings has a fun look with a geometric appearance, yet has a comfort fit. This means there is a rounded edge so there is no pinching feeling since its smooth. Another fascinating ring would be the Flat Zirconium Ceramic with Beveled Edges that looks like metallic and is black in color. For a two toned ring with a black ceramic inset has the look of a black diamond, but is made with black zirconium ceramic.
The rings are fitted according to US sizing and there is a chart that has the sizes to view. If you are still unsure about the correct size, we will send a ring sizer overnight when you place an order. There is also standard shipping via Fed Ex or priority mail. See our ordering page for details. Since the Tungsten Carbide rings are pre-manufactured, it only takes 1-2 days to ship from the time we have your confirmation that it is what you want. There are also several ways to order such as credit card, check, money order or pay pal. There is a piece for everyone and when you are looking for something unique and long lasting, the tungsten carbide jewelry is the right choice for you.