Titanium Wedding Sets for Modern Couples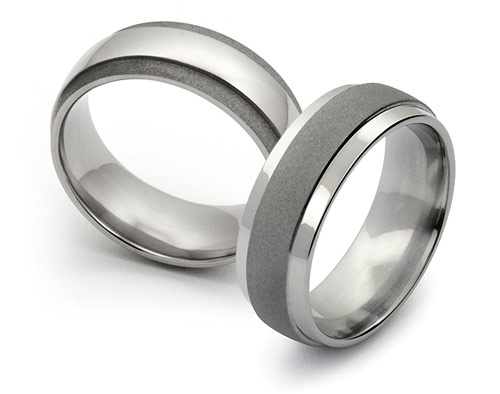 Titanium wedding sets are a smart and affordable choice for any couple. Titanium is a natural element which is known for its extreme durability, as it is commonly used in the making of jets and automobiles. However, it is also a beautiful, rich silvery color and is extremely lightweight, making it an attractive material for the formation of jewelry.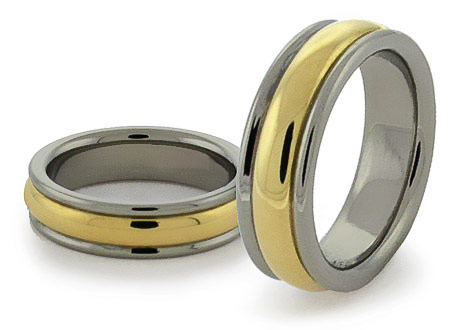 Titanium wedding sets are often chosen as an alternative to platinum. While the two alloys have many similarities, such as their color and toughness, titanium bands will ring in at a fraction of the cost of platinum. Both metals are completely resistant to bending, breaking, or deformation. The hard surface is also resilient against nicks and scratches which would mar a softer metal, such as yellow gold. Any imperfections the bands take on are generally shallow in nature and can easily be buffed out, allowing titanium wedding rings to retain a like-new appearance for the duration.
As the appeal for titanium wedding sets has grown, jewelers have been challenged to create new designs. Titanium Style is a premier jeweler which has specialized in custom titanium and tungsten jewelry for years. In answer to the growing demand, they have expanded their line and even began offering their artistic creations online. Shoppers can log on to www.titaniumstyle.com and browse the full line of jewelry and view the variety of looks which can be created. They have so many custom features and options, each ring is truly unique and can be designed to express the personal style of the individual who will wear it.
Couples can choose to add inlays of other metals to break up the titanium. They can also select which edges they want on their bands, to add grooves for dimension, and what finish they want applied. Jeweled stones can also be added, if desired, for a burst of color. The possibilities are endless!
Titanium Style believes in producing the best quality jewelry possible. They use only the highest grades of titanium available, including Aircraft grade Ti-64, the hardest titanium alloy Ti-662, and pure titanium Ti-999. Each ring created by Titanium Style is hallmarked with the specific grade or grades and type of metals used and their karat mark, which guarantees the purity of the alloys used.
All titanium wedding sets created by Titanium Style are hypoallergenic, making them perfect for all skin types. Every purchase comes with a Certificate of Authenticity and a Lifetime Warranty card. The Lifetime Warranty protects the buyer in the event of manufacturer defects, including breakage, deformation, bending or denting. A free sizing set is provided with ring orders, to ensure a perfect fit. Fast production and delivery time are also guaranteed.