Titanium Wedding Bands For Men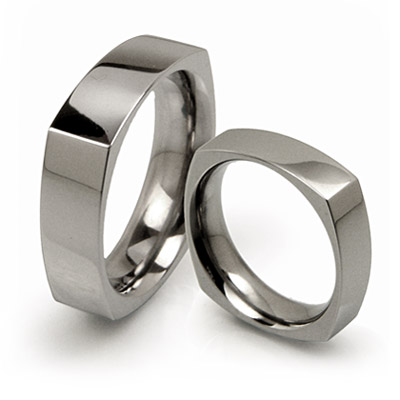 As men tend to be harder on their symbolic bands, often times, the hardiness of the piece of jewelry can be the most important decision making factor. The ring's endurance to hot conditions, as well as to nicks and abrasions allows even men in construction and mechanical jobs to wear their bands with the confidence it will not be damaged. However, don't let the sturdiness of Titanium wedding bands for men deceive you. These surprisingly light weight rings come in a wide variety of styles and can be completely customized to reflect each groom's personal panache.
Ohio based, Avant-Garde Titanium has years of experience creating tailor-made titanium and tungsten jewelry. Their artisans consider every piece to be unique and special, a piece of art the craftsman can take great pride in. Avant-Garde Titanium uses the highest quality of materials to fashion their titanium wedding bands for men. The silver color of the metal mixture is comparable to platinum, only darker and richer, and a fraction of the cost.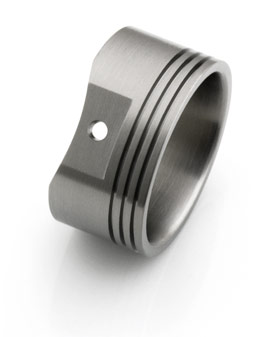 Titanium Piston Ring
Titanium wedding bands for men made by Avant-Garde can be enhanced with inlays of ceramic, gold or platinum. A groom would then decide on a width, both of the band and the selected inlay. Next comes the almost countless options on edge design. The groom can weigh in on domed, pipe-cut, or beveled edges, and his decision could be based on appearance or perhaps the comfort of the fit. He may further decide on a shiny or brushed finish for his forever band, or might want to get creative with perhaps the center brushed and the sides polished.
Avant-Garde Titanium also offers engraving on their titanium wedding bands for men. A bride or groom may want to add a special message on the inside of the ring. This can be accomplished using a special laser and diamond engraving machine.
Titanium wedding bands for men created by Avant-Garde Titanium Company are all hypoallergenic. When the buyer receives his exclusive ring, it will be accompanied with its Certificate of Authenticity and Warranty Card. The Lifetime Warranty protects the customer in the event of manufacturer defects, including breakage, deformation, denting or bending. Speedy production and delivery time are also guaranteed.