Titanium Wedding Band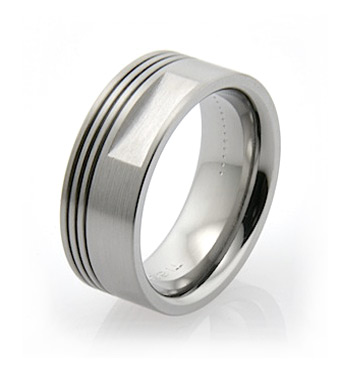 Enjoy a titanium wedding band from your sweetheart made for the modern guy and girl. Browsing through all of the beautiful and unique styles lets your imagination run wild when you want to create one of your own. Take an idea from them and we can design your own custom made titanium wedding band or piece of jewelry. Use a special stone to put in a ring or necklace or use silver or gold throughout the piece to accent the titanium or tungsten.
Our goal is to give our customers the best service and quality jewelry all at an affordable price. Your experience is going to be the best online shopping because we look to building a relationship for future purchases. As others recognize the quality of your item, we hope to give them the same experience. With a warranty, money back guarantee, free lifetime refinishing service and low shipping rates are all ways we strive for a memorable event.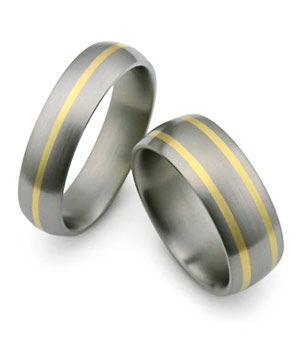 From the titanium wedding band to the tungsten wedding band we have two exquisite rings to choose from for your perfect day. The titanium is popular because it is durable and yet, looks similar to platinum which is a favorite lately in color and style. These rings can be made with a favorite stone inset. The Tungsten is cobalt free and hypoallergenic. Some of them are not, so rest assured ours is of the purest form. They are both going to look spectacular from the time you slip them on your finger until 50 years later because they are both made of strong metal that can be buffed back to perfection. With a lifetime promise to refinish them twice a year during the time you own the turngsten or titanium wedding band.
Other smart reasons to purchase from Avante-Garde Titanium Inc Ordering time is efficient, the cost of shipping is low and engraving has no additional shipping charges as well as designing a long lasting piece for your pleasure. Email or call us for specific details on cost, custom design or our lifetime refinishing program. We will return your call or email within 24 hours and during business hours we will get back to you sooner. Regardless, we will do our best to accommodate your custom made creation.
With so many satisfied clients, feel free to read their positive responses. We would love to post your answer on our site when you complete your purchase. Surprise your loved one with a fantastic surprise for their birthday, anniversary, graduation or Christmas present with one of these creative pieces. From a pendant to a titanium wedding band, you can't go wrong with these spectacular gifts that last a lifetime. Order today for a super gift for you or the loved one.