Titanium Necklaces - Perfect Gift For Men & Women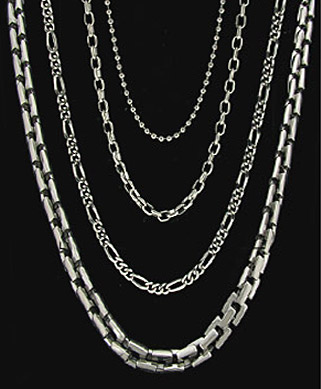 Avant-Garde has some beautiful and unique Titanium necklaces for the modern guys and dolls. Whether you want a trinket to give to your sweetheart or for your child, there are a variety of necklaces, chains and pendants to choose from. There are rings, bracelets and even a dog tag as well.
There are several necklace designs (chains) with different size links. All made of Pure Titanium:
2.8mm Solid Titanium chain with a 'lobster' clasp.
5.5mm titanium necklace made with fold-over clasp.
3mm Double link chain with a lobster clasp.
A dainty looking 2.0 classic cable chain is still durable and long lasting for a different look in Titanium necklaces.
Shop High Quality Titanium Chains & Necklaces
A classic, Box-style titanium necklace (pictured above) is an appropriate choice for both men and women. This surprisingly light-weight model measures 6.8mm (little over 1/4") and has a sturdier appearance than some of the other titanium necklace styles, such as cable, flat, or rope.
More unique looking designs include box chains, Figaro, or oval styles. are also available. An especially rare option is the Titanium Ball Chain. This titanium necklace is created in exact Military design, and includes Military style connector barrel clasp. Some of the stunning pendants can be a spectacular gift! A Titanium Cross with Direct Set Diamond or a gem is such a pretty piece of jewelry. The brushed or polished finish is your choice. The dramatic pendant with the cross shape cut out of it measures 1 ¼ by 3/8. Or a third choice is the breathtaking cylindrical pendant that has a cut through cross design. All of these Titanium necklaces are dazzling!
Selecting Chain Length for Your New Necklace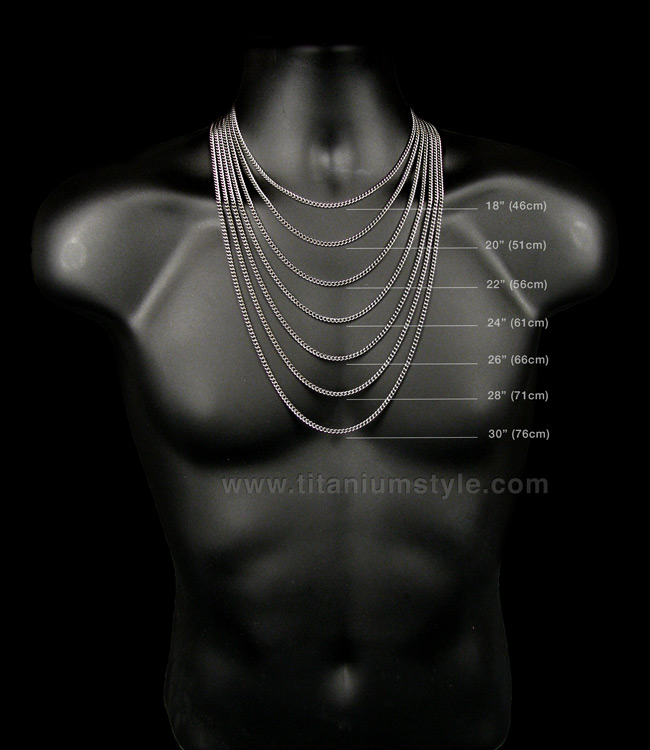 Besides the Titanium necklaces, other fascinating pieces are the bracelets. There is the name plated bracelet that has links that are brushed with high polished side links. This light weight and comfortable bracelet has a fold over clasp. The links are removable for those with smaller wrists. Another aspect is to add a stone such as a diamond or rubies to add a bit of sparkle to it. Ask for a custom idea and we will quote it. The Zirconium Ceramic bracelet is a metallic look (its black in color) and glossy shine for a modern design.
With the holidays around the corner, there is a vast array to browse for presents for yourself or a loved one. Avant Garde has extended the return policy till after the holidays to find your perfect gift and return or exchange it if needed. It is a 14 day money back guarantee. There is also a lifetime refinishing policy that means you can send it in two times a year the whole time you own it. You only pay for shipping unless you are close enough to stop in southern Ohio where the company started and resides today. For tungsten or titanium engraved rings there is a refurbishing fee. There is also a lifetime warranty due to defects for repairs or replacements. There are many jewelry options from chains to pendants to rings in tungsten or Titanium. Necklaces and bracelets are ready and waiting to be designed and sent right to you.