Titanium Mens Wedding Bands - Strong by Choice!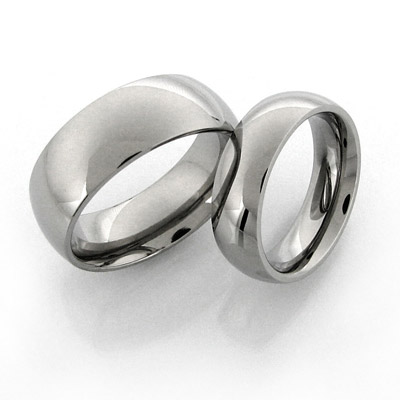 Titanium Rings for Active Men
Titanium Style offers a complete line of stunning titanium mens wedding bands. For any active man, titanium is the perfect ring material. With its unparalleled durability, sleek and stylish appearance, and incredible affordability, titanium is quickly becoming in great demand.
Titanium Style is Ohio jewelery company known for unique custom jewelry created from titanium and tungsten carbide. As the popularity of their jewelry pieces grew, they expanded their line, offering a wider variety of custom options, along with some new materials, such as ceramic, for rings. They also broadened their customer base by offering their complete line of jewelry through the internet.
Titanium Style's selection of titanium mens wedding bands has garnered them quite a reputation. Men are especially drawn to the titanium bands due to their resiliency. The tough alloy, which is commonly used in the manufacturing of tanks and jet planes, is nearly indestructible. The hard bands maintain their shape and appearance, as they cannot be bent or scratched.
Customers can browse their website at www.titaniumstyle.com and view the variety of styles they have available, along with the range of custom options they offer. They can start by selecting one of the three grades of titanium available, Aircraft grade titanium Ti-64, super hard titanium Ti-662, and pure titanium Ti-999. The talented artisans at Titanium Style can help to guide the buyers into choosing the appropriate grade for the titanium mens wedding bands.
Next, there are decisions to be made regarding whether or not to add an inlay of another metal or material. Choose from yellow gold, rose gold, white gold, platinum, rubber, or ceramic to create an inner band (or two). Opting for a bold choice, such as yellow gold or the black ceramic, creates a bold contrast to the smooth silver color of the titanium. Alternately, a platinum inlay results in a much more subtle and understated look.
The customization doesn't end there. Buyers must choose whether or not to add grooves or beveled edges. The titanium mens wedding bands come in a classic domed shape or squared off for a more modern, contemporary look. Jeweled stones can also be added for a burst of color. They offer two options for setting the stones, direct setting or tension setting. Personalized messages can also be added to the inside of the band using their special diamond laser engraving machine.
All of Titanium Style's titanium mens wedding bands are hypoallergenic, making them ideal for all skin types. All of their jewelry pieces come with a Lifetime Warranty which protects the buyer against any manufacturer or material defects. As a bonus, Titanium Style also offers a Lifetime Refinishing Policy on all of their titanium mens wedding bands, allowing customers to send their rings in once per year for a surface refinishing.