Titanium Engagement Rings - Strong Proposal!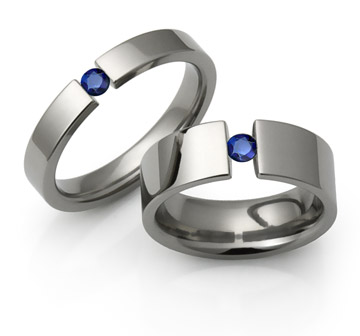 Titanium tension rings with sapphires
In the United States, engagement rings have been traditionally just for women, while in other cultures the man also wears one. As titanium engagement rings have grown in popularity, the trend of grooms-to-be joining their betrothed in wearing a symbolic engagement band to let the world know they have intentions of becoming married has also grown. Titanium engagement rings provide men with a durable option that combines practicality and tastefulness in a piece of jewelry.
Engagement Ring for a Man
While an engagement ring for a man may seem a whimsical purchase, titanium engagement rings often perform double-duty as the wedding band. In choosing titanium, he is getting a ring that will last a lifetime. Titanium is a heavy-duty material which is resistant to bending, breaking, or deforming. Any nicks or scratches that may mar the surface of the ring are shallow and easy to buff out. While titanium is a strong and solid alloy, it is incredibly light, especially compared to traditional yellow gold. This makes it an excellent ring choice for men.
Titanium engagement rings are also surprisingly more affordable than platinum engagement rings. By choosing titanium over platinum, a customer can afford to customize a band to reflect personal taste and style.
The rich, deep silver hue of metal allows titanium engagement rings to appear tough and classy at the same time. A client may choose to pair another precious metal with the titanium to create a contrast. Yellow or rose gold creates a bolder look, while white gold, silver, or platinum give a subtle break or variation in the titanium.
Different finishes can also be applied to the titanium engagement rings. A hammered surface can add character and interest to the band. Different designs are available. They are all hand-crafted and guaranteed to endure the test of time.
Titanium engagement rings can also keep with tradition and include a precious gemstone. At Avant-Garde, only the highest quality precious jewels are used in titanium jewelry. When a stone is selected, the client can choose to have it set in a titanium band with a direct setting, which will result in the stone being inset to lay flush with the band, or have it suspended between two edges of the band with a tension setting method. Either technique produces a stunning finished product.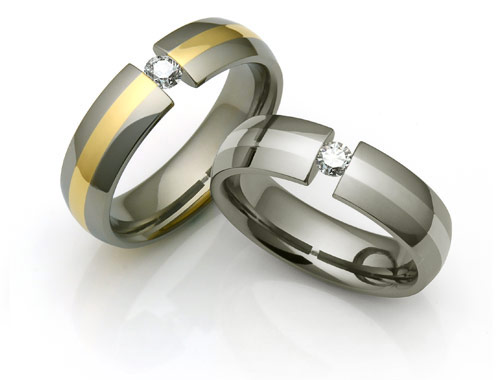 The gifted craftsman at Avant-Garde understand the importance of choosing the right engagement ring and pledge their commitment to satisfy their customers. They believe in their products and stand behind them with their Lifetime Warranty, which protects the buyer in the event of any manufacturer or material defects.
When considering making your own lifetime commitment, contemplate custom titanium engagement rings, which are guaranteed to be with you every step of the way.