Titanium and Tungsten Wedding Bands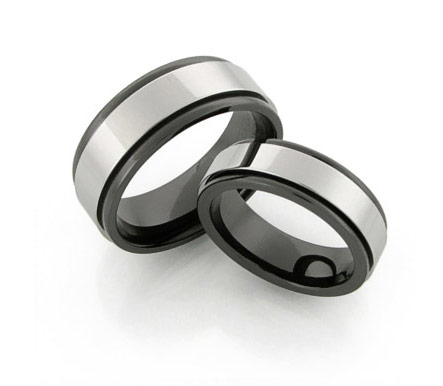 tungsten carbide and black ceramic rings
Avant-Garde Jewelry Company offers a wide selection of tungsten carbide rings, which are known for being the toughest and most scratch proof rings in the jewelry industry.
The popularity of titanium and tungsten wedding bands is soaring and it is easy to understand why! For the same reason platinum became the jewelry metal of choice - it's incredibly durability. However, platinum comes with a costly price tag which many cannot afford. Titanium and tungsten, on the other hand, provide the same indestructible qualities without breaking the bank. In fact, titanium and tungsten wedding bands are generally even less expensive than what traditional yellow gold bands would cost.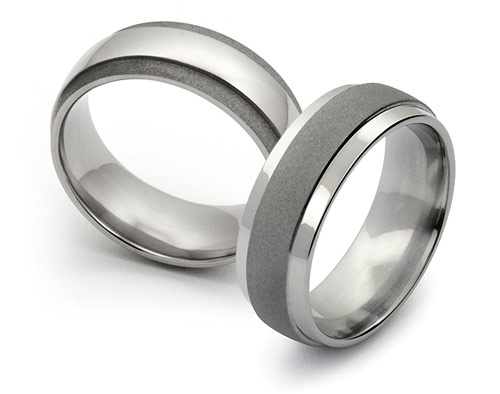 sandblast finish titanium rings
Titanium Style is a premier jeweler which specializes in jewelry created from titanium and tungsten. They started out as a small, Ohio-based store which produced custom pieces locally. However, as the word about titanium and tungsten spread, they answered the demand by expanding their line, developing new designs, and offering their custom jewelry to a broader audience through their website at www.titaniumstyle.com
Titanium and tungsten wedding bands are one of their most popular items. Couples enjoy the opportunity to select all of the features of their forever band; to design a ring which will reflect their own personalities and styles.
Titanium Style's talented jewelers start with the highest grade of materials available to create the couple's dream rings to their specifications. Customers are provided with a multitude of options when it comes to customizing the titanium or tungsten wedding bands. They can start by deciding whether or not they want to add an inlay. An inlay is an inner band of a different material. Most commonly, inlays are made using a different metal, such as gold, to create a contrast. However, at Titanium Style, they also offer inlays of rubber or ceramic. An inlay is a simple way to make a big statement.
Additional choices include deciding between a classic dome style or a more square off edge to the band. Grooves can be added to give the band some definition or edges can be beveled for a more contemporary look. They also offer a variety of finishes to choose from, including a shiny smooth finish or a brushed satin. A hand hammered finish can also be applies if a customer is looking for something unique.
Gemstones can also be added for customers looking to add a burst of color to their bands. They can set the jeweled stones using a direct set method, which allows the stone to set flush with the band or with tension setting, which uses the band's own tension to suspend the stone in place.
Titanium Style also offers custom engraving and all of their jewelry comes with a Lifetime Warranty against any material or manufacturer defects.
For a couple looking to commemorate their commitment to one another with a pair of custom titanium or tungsten wedding bands, Titanium Style is the leading expert. Log on to their website today to peruse their extensive line of stunning jewelry.