Tension Set Rings - Titanium Style Original Designs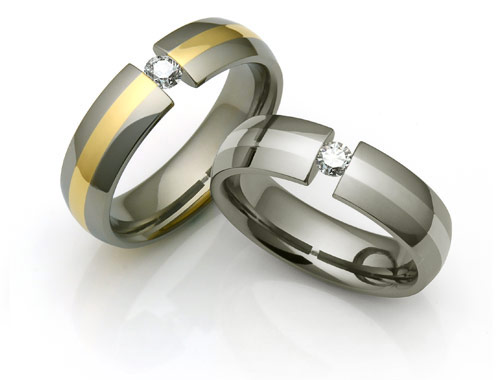 Tension set titanium rings for those, who love jewelry with a little tension!
Tension set rings are unique and stunning, perfect for the customer who appreciates fine jewelry. The technique used in the creation of a tension set ring results in an enchanting band with a jeweled stone which appears to float in midair. This is accomplished by using the pressure of the metal itself to suspend the gemstone between the edges of the ring.
Tension set rings are known for their gemstones having incredible shine and brilliance, especially compared to a stone set in a traditional prong setting. Prongs tend to prevent light from flowing through the jewel as freely. On the other hand, a tension set ring is designed to allow full exposure to light, which results in more sparkle.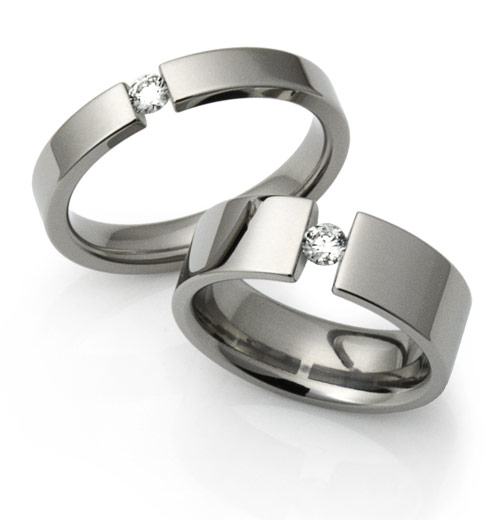 While the tension setting technique is not new, it has been perfected in recent years. Jewelers discovered not all metals are strong enough or able to produce enough tension to hold the stone in position. For example, a tension set ring created of yellow gold will generally be a bulkier band, as the weaker metal requires more mass in order to produce the required amount of tension. However, a tension set ring made of a harder alloy, such as platinum or titanium does not require the additional bulk as the metal is strong enough on its own.
Titanium Style is a premier jewelry designer and creator which specializes in titanium and tungsten jewelry. For their tension set rings they recommend Especially Hard Airspace Titanium Ti-662. This is the strongest grade of titanium available, making it ideal.
An important fact to know about tension set rings is they cannot be easily resized. Therefore, at Titanium Style, each of their titanium tension set rings is custom made to fit the finger on which it will reside. This also provides the customer the opportunity to choose the band's design features and specific stone, making each ring tailor-made and one of a kind.
Titanium Style offers each customer a variety of options to be incorporated into their custom band. They can start by adding an inlay of another metal, if desired. Many like the bold look achieved by adding an inner band of a contrasting metal, such as yellow gold. The bright yellow against the rich, deep silver of the titanium makes a stunning statement. The inlay can be raised up, slightly higher than the rest of the band, or can be set deeper, creating a channel. From there, the customer can decide on whether or not to add grooves, what type of edge they prefer, and then move on to picking finishes. There are so many different combinations, each ring is truly unique.
All of Titanium Style's rings are hallmarked with their grade of titanium and karat mark, guaranteeing the purity and quality of the alloys used in their making. All of their jewelry also comes with a Life Warranty against any manufacturer or material defects. Anyone shopping for tension set rings should know that a well-constructed piece will last them a lifetime.
Avant-Garde also offers high quality jeweled stones which can be added to tension set titanium rings to add a burst of color. Avant Garde is proud to stand by all of their jewelry pieces. They use only the highest quality metals in the creation of their products. They hire only skilled craftsmen to treat each piece like individual work of art. In fact, Avant-Garde is so confident you will be satisfied with your purchase, they offer a 14-day money back guarantee and a Lifetime Warranty against any manufacturer or material defects. Whatever the occasion, mens tension set titanium rings from Avant-Garde are a great gift for the special man in your life.