Tension Set Engagement Rings Made From Titanium.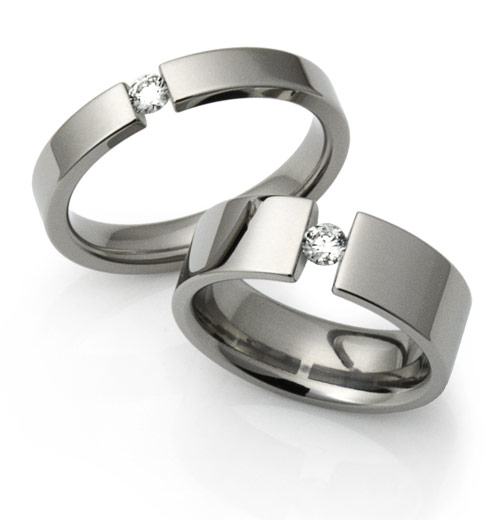 Today, many people are looking to have a wedding on a budget, leading countless engaged couples to evaluate the benefits of titanium tension set engagement rings.
This extremely affordable option allows both bride and groom to have a stylish ring at only a fraction of the cost of the comparable alternative of platinum.
While inexpensive, these rings could never be called cheap. Titanium is one of the hardest natural elements available and is nearly an indestructible material. It is resilient in high heat conditions, as well as resistant to bending, scratches and nicks. If the titanium tension set engagement rings do incur any marring, the marks are shallow and easily buffed out.
Avant-Garde Titanium, a premier provider of titanium tension set engagement rings, forms their hand-crafted titanium jewelry from aircraft grade Ti-64, the hardest alloy Ti-662, and pure Ti-999. All of their rings are hallmarked with a specific grade of titanium and their karat mark, guaranteeing the purity and quality of the alloy used in to make the ring.
Avant-Garde offers a variety of options regarding style of titanium tension set engagement rings, allowing each bride and groom to customize their band to reflect their own person taste. The beautiful, deep silver tone of the titanium can be offset with an inner band of a bold, contrasting metal, such as yellow or white gold, or a more subtle contrast of platinum or silver. Details, like the width of the inlay, can even be dictated by the customer.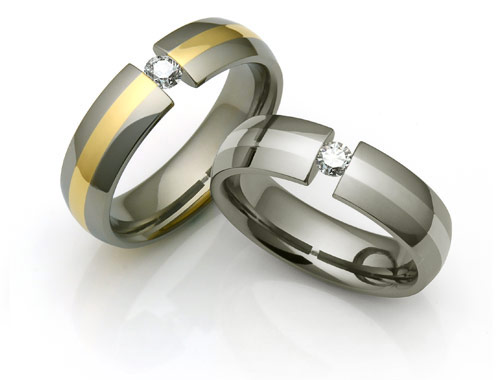 Tension set titanium rings for women, who love a little tension!
Edges can be beveled, grooves can be added. Finishes can be shiny or buffed or even hand-hammered for a more unique look. Daring couples may even choose a combination of finishes, such as a hammered edge and a smooth inlay.
For a bride who wants to stick with tradition, titanium tension set engagement rings can also have jeweled stones added. The stone can be placed with a direct setting, where the stone is set into the titanium to lay flush with the surface of the band. Tension setting is a technique that allows the stone to be suspended between two edges of the band, held in place by the pressure of the titanium band itself.
Even though titanium tension set engagement rings are tough to scratch, Avant-Garde is able to offer custom engraving if the bride or groom would like to add a personal message to the inside of their band. This is accomplished using a special diamond laser etching machine.
Avant-Garde considers it a privilege to create titanium engagement rings for their customers and treat each piece of jewelry as a unique piece of art. They are proud of their workmanship and stand behind their products with their Lifetime Warranty, which protects the purchaser against any manufacturer or material defects for the life of the piece.
Whether you are getting married on a budget or just appreciate the benefits of titanium tension set engagement rings, shop at Avant-Garde for your special day.
Avant-Garde also offers high quality Fancy Color Diamonds and gemstones which can be added to tension set titanium rings to add a burst of color.