Titanium Chains - Cable, Flat, Rope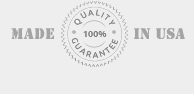 Small Size Titanium Chains and Necklaces.
Our small size titanium chains offer a stunning elegance that is unique in the jewelry world. Each titanium chain and necklace in Avant-Garde Jewelry Co's collection is hand polished by our expert team of jewelry professionals, and satin (brushed) finish chains and necklaces are also available upon request. Each titanium necklace and chain we offer is also supplied with a pure titanium lobster clasp that easily slips on and off, and all jump-rings are welded for superior durability.
When you order one of our stylish titanium necklaces or chains you can rest assured that it is made from nothing but pure titanium (Ti-999) and guaranteed to be completely hypoallergenic. We stand behind each of our products with a lifetime warranty.
If you are looking for a small and striking addition to your jewelry wardrobe or a great gift for a loved one, these chains and necklaces are an ideal choice.