Mens Titanium Necklaces - Strong, Beautiful, Manly!
Ohio jeweler, Avant Garde, offers a complete line of mens titanium necklaces. Many men enjoy wearing jewelry, however, opt not to on a regular basis for a variety of reasons. The most common reason is men are often rougher on their jewelry items and pieces incur a great deal of wear and tear. Another reason is the weight of traditional chains. As men tend to want bulkier appearing chains, they can weigh a great deal and become heavy and hot to wear around the neck or wrist on a regular basis. Along those same lines, a wide chain in a traditional yellow gold would be very expensive to purchase.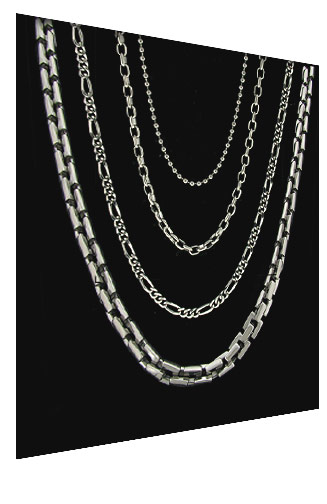 Titanium Chain Necklaces for Men
Titanium serves as a solution to all of these issues and is becoming widely popular. Mens titanium necklaces are heavy duty, lightweight, and affordable.
When people hear the word titanium, the first things that come to mind are knives, bicycles, or even airplanes. The reason titanium is used in the making of these items is its durability. This is one of the reasons it is a great material for the making of titanium rings. Mens titanium necklaces are nearly indestructible. The titanium is resistant to breaking or breaking. The hard surface does not easily incur deep scratches or nicks. Any surface marring is shallow and can easily be buffed out.
Titanium is also incredibly lightweight. In fact, it weighs in at about a third of the weight of other metals, such as gold and silver. Due to the bulk generally involved in a chain created for a man, this is of greater importance.
With all of these features, one might expect titanium jewelry to come with a large price tag. However, it is actually only a fraction of the cost of platinum. Titanium is often compared to platinum due to its similar characteristics, such as the smooth, silvery color.
Avant Garde has a variety of styles of mens titanium necklaces to choose from. A customer should first consider the length and width desired. All of their chains can be ordered in any length the customer wishes.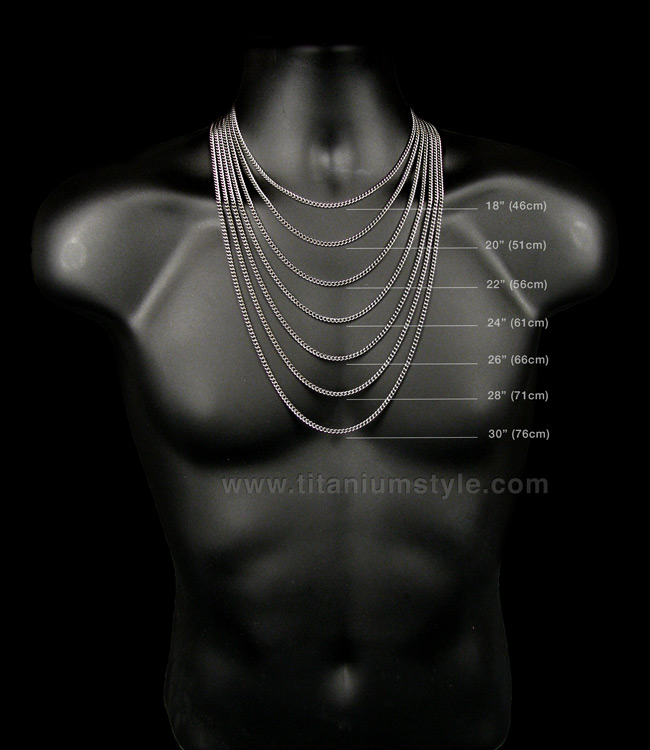 When purchasing a titanium chain, you must first consider the length
The Classic Curb Style Titanium Chain comes in five different widths, with links available in large, medium, or small sizes, with the large measuring at 7 mm and the small at 2 mm. Another more masculine choice is the Box Style Titanium Chain. This chain has bold square links and measures in at 6.8 mm wide. Browse other classics, such as cable or rope, or specialty designs such as the Figaro or Oval chains. For something more unique, choose the Titanium Ball Chain. This necklace is created in exact Military design and includes Military style connectors and a barrel clasp.
All of Avant Garde's mens titanium necklaces are protected by their Lifetime Warranty and come with a complimentary Lifetime Refinishing policy. This allows customers to return the chain to them twice per year for a free cleaning and resurfacing, guaranteeing the necklace will last and look beautiful for the long haul.