Men's Titanium Chains
Mens titanium chains make great gifts for the special man in your life. Whether shopping for a birthday, anniversary, or even a graduation present, any man is sure to appreciate the style and durability provided by a titanium necklace.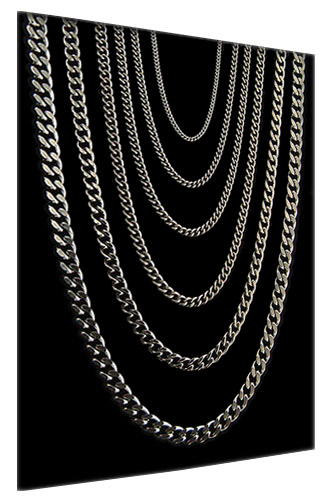 The grade of titanium used in creating a titanium necklace is the same pure titanium used in crafting titanium ring models, also known as Ti-999. While this is not the hardest grade of titanium available, it is still harder than other, more traditional metals, such as gold or silver. Ti-999 is the selected grade to make titanium chains, including the claps, due to it being more pliable than alternate grades.
The durability of titanium makes it a great material for necklaces, which can easily be caught on things and break if fashioned from a softer metal. Titanium is nearly indestructible and links made from it will resist bending or breaking, as well as nicks in their surface. Titanium will not corrode or tarnish either.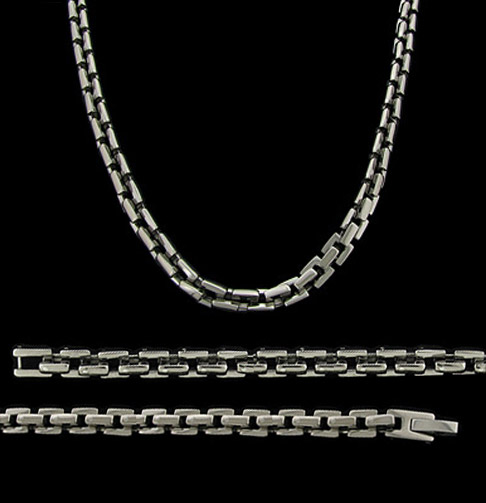 The look of titanium is also appealing to men. The gunmetal silver color is comparable to platinum, yet deeper and flattering on most any skin tone.
Ohio based titanium jewelry expert, Avant-Garde, offers a selection of different styles of men's titanium chains. When shopping for a titanium necklace, one should consider length of chain and width of links, as well as the overall shape and design of the links.
A classic, curb-style chain is a popular choice for men. This surprisingly light-weight model is available from 2 mm to 7 mm in link sizes, and has a sturdy, more masculine appearance than some of the other styles, such as cable, flat, or rope. Specialty designs of mens titanium chains, would include box chains, Figaro, or oval styles. An especially unique chain is Avant Garde's Titanium Ball Chain. This is created in exact Military design, and includes Military style barrel clasp connector, versus the lobster clasp included on their other chains.
Titanium chain length guide for Men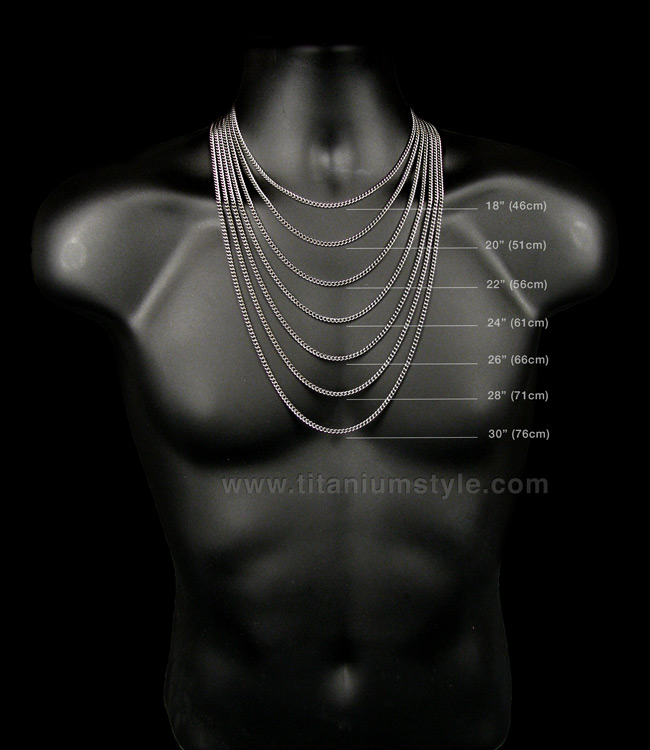 Avant Garde also offers a line of pendants and dog tags designed to complement their mens titanium chains. Their cross pendants are specially designed to for the chains to slide through without the use of a connector. This keeps the pendant laying correctly without twisting or tangling.
Avant Garde is committed not only to the appearance, but also the quality of their craftsmanship. This is demonstrated by their 14-Day Money Back Guarantee and their Lifetime Warranty. The 14-Day Money Back Guarantee makes certain each of their clients is satisfied with both the visual aspects of their new purchase and the quality of the workmanship. The Lifetime Warranty acts to protect the buyer against any manufacturer or material defects which may be discovered over the life of their mens titanium chains. In the event the chain becomes bent or broken through normal wear and tear, Avant Garde will repair or replace the piece, allowing their clients to purchase with confidence.