Men's Titanium Bands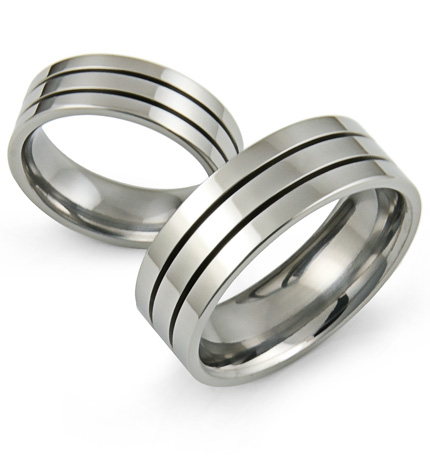 Contemporary Mens Titanium Wedding Bands
Say I DO with Titanium Wedding Bands!
Mens titanium bands are a beautiful way to say I DO to your man. For the more modern woman looking for a definite updated look on their finger as well as their spouse, this is the way to start. These fascinating and cool titanium rings give a lot of choices for the happy couple. They are affordable and stylish, not to mention easy to obtain with a sincere engraving on the inside. Whether you pick a simple or funky design, a wedding band symbolizes forever or eternity in many cultures because it is a circle with no beginning or end. This is the start to a wonderful life together while the opening to the ring is like a door that opens to the future events that are still to come.
One of the mens titanium bands is called a Hammered Finish. One of the choices has a flat geometric finish. The outside is smooth and shiny while the inside has a lasered finish that almost looks like small gravel. For a totally unique symbol this would be a fantastic pick! Another in the same category, but a completely different appearance is the band with groves. The appearance of the never-ending lines gives credence to the symbol of eternity. Again, a nontraditional ring with a contemporary feel.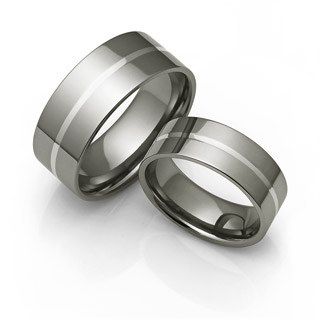 There was a time that they were made from material that didn't last because they were a softer material. At Avant-Garde, we have come a long way with women's and Men's titanium bands. The opposite is true in that they last until your last day as a married couple. They are almost as hard as diamonds and can be buffed until the scratches are nonexistent. Mens titanium bands are strong and resilient just as a man in your life.
Another ring is the inlaid bands with a gold, white gold, silver or platinum or black rubber two toned appearance. This comes across as one piece yet it has the inlay inside of the width of the band. Still another fascinating ring is the custom order process. There could be one of our styles that you want to tweak just a bit to make it your own. The width, metals, and choices of stones are yours for the asking. For a completely unique idea, email us to determine cost and ability to deliver. Picking one is the hardest part of ordering them. Just letting the company knows which ring you choose by emailing us with questions or the order. Credit card, Pay Pal, check or money order payments are available. There is a warranty on each piece of jewelry so you can be assured of your order. Women or mens titanium bands are a special way to start your life together.