Custom Titanium Rings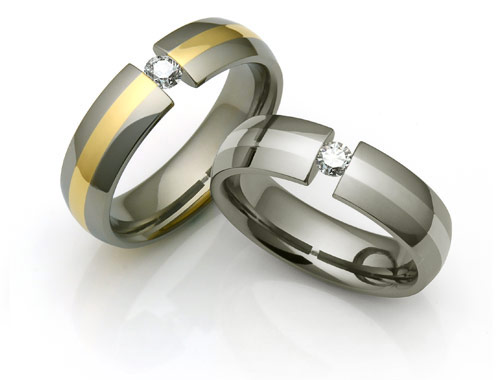 Tension titanium rings customized with your choice of stones and inlays
Anyone looking for high quality, exquisitely designed custom titanium rings should log onto www.titaniumstyle.com. All of the rings created by Titanium Style are handcrafted by expert jewelry artisans skilled in working with titanium.
Titanium Style started out as a small jewelry shop in Ohio which specialized in titanium and tungsten jewelry. As savvy customers have learned the benefits of titanium jewelry, the demand grew. Titanium Style grew along with it, expanding their line of jewelry and offering it online to reach a worldwide audience.
The simple reason custom titanium rings became so popular is the durability of the titanium used to form them. Titanium has been used for making jet planes, knives, and prosthetics for decades, with its toughness well documented. The same reasons it is an ideal material for those things also make it perfect for jewelry.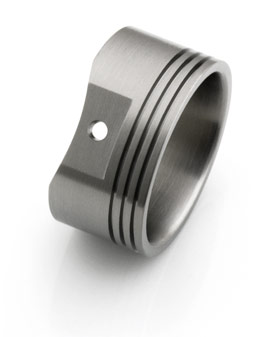 Custom titanium rings are nearly indestructible. The hard alloy is completely resistant to bending and breaking. The surface is even resistant to scratching. Titanium will never tarnish and is hypoallergenic, making it a great choice for someone with sensitive skin.
A customer can work with the experienced designers at Titanium Style to create the perfect band. A great many options are available to choose from, making each ring unique.
They can choose everything, starting with the width of the band. An inlay of another metal can also be added. This results in an inner band. The inlay can be made of yellow gold, rose gold, white gold, platinum, or silver. Choosing a contrasting color, such as the yellow or rose gold makes a bold , distinct difference, while the platinum, silver, and white gold are more subtle and complementary. The inlays can be raised above the band, flush with the band, or deep set into the band, creating a channel. A double inlay can even be added to a band.
After deciding on inlay, the customer can then look at edges. A classic domed look remains a popular choice. The square edges give a more masculine look to the ring. Edges can be beveled and grooves can even be added.
For a client looking for something even more unique titanium rings, adding gemstones can be it! The high quality jewel can be direct set into the band or can be placed using the tension setting method, where the stone will appear to float in mid-air, as it is held together by the two edges of the band and the tension from the band.
Even the finish is decided by the client. They can choose from a shiny, smooth finish or a brushed satin. A hand hammered finish can also be selected. Customers can also opt for a combination of finishes. For instance, the titanium could be smooth, but the inlay hammered. Possibilities are endless!
The jewelers at Titanium Style are standing by work with each customer as design and create custom titanium rings to each person's individual style and taste.