Unique Custom Titanium Jewelry
Titanium Style is a premier jeweler located in Ohio which specializes in custom titanium jewelry. They started out as a small shop offering their custom services to other local jewelry stores. However, as the demand for titanium and tungsten-carbide jewelry has grown, they expanded their line and began offering it through the internet on their website at www.titaniumstyle.com
As a leading provider of custom titanium jewelry, Titanium Style has a commitment to quality. They start by using only the highest grade of alloys available. They offer three grades of titanium, Aircraft grade titanium Ti-64, super hard titanium Ti-662, and pure titanium Ti-999. All of their tungsten pieces are actually made from a blend of the two natural elements, tungsten and carbide. The two are fused together using boiling heat and extreme pressure, resulting in tungsten-carbide, which is an ideal material for jewelry. Titanium Style also creates black ceramic rings, which are made from zirconium-based ceramic, which is one of the hardest materials on the market. A ring made from it is scratch proof, as well as resistant to any bending, breaking or deformation. Zirconium measures a 9 on the Mohs hardness scale. The only material which can scratch its surface is a diamond.
Customers can browse their website and view the variety of options available for creating custom titanium jewelry. They have designed rings, bracelets, necklaces and chains, crosses and pendants.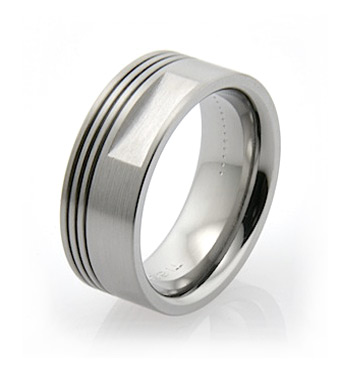 Custom-made titanium ring in form of a engine piston
Rings are their most popular item and many brides and grooms are choosing to opt for titanium wedding bands. Titanium rings provide the strength and durability of platinum, along with the smooth silver color, without the exorbitant expense, as titanium costs about a fraction of what platinum does.
Options for a custom band include deciding whether or not to add an inlay of another metal or material. Customers can choose from yellow gold, rose gold, white gold, platinum, or even black rubber, or black ceramic to create an inner band (or two), which breaks up the titanium and adds a bit of color and style.
The customizing does not stop there. Buyers can add grooves or beveled edges. They can choose a classic domed shape or a more squared off band if wanting something more contemporary. Titanium Style is also able to add gemstones to their titanium bands. The jeweled stones can be set in the bands directly or by the more unique method of tension setting, which suspends the stone between the edges of the band for an enchanting effect.
Titanium Style also offers personalized engraving on all of their custom titanium jewelry for customers looking to add a special message to their piece.
All of Titanium Style's custom titanium jewelry is completely hypoallergenic, making them ideal for all skin types and they all come with a Lifetime Warranty which protects the buyer against any manufacturer or material defects.