Ceramic Wedding Rings
For a young couple with more contemporary tastes, ceramic wedding rings may be the perfect detail to complete their wedding day. The bands are actually created from a zirconia-based ceramic, which is one of the hardest jewelry making materials on the market today. With their beautiful, shiny, black color, combined with their unbelievable durability, ceramic wedding rings are a quickly growing trend.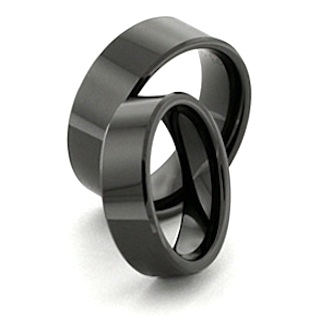 Today's savvy shoppers are looking for the best value for their dollar and making less decisions based on whimsy, especially on purchases expected to hold up over time, such as quality jewelry. Titanium Style is an Ohio-based jeweler which specializes in titanium or tungsten jewelry. They have seen the demand grow over the years and have answered it by expanding their line of premier jewelry and offering it over the internet on their website at www.titaniumstyle.com
The hardy qualities which have made titanium and tungsten jewelry popular also apply to the ceramic bands. A band made from zirconia is completely scratch and abrasion proof. The ceramic measures a 9 on the Mohs hardness scale and can only be scratched by a diamond. Ceramic wedding rings will also resist any bending or breaking. In spite of the toughness of zirconium, it is also incredibly light weight.
The onyx-like shade of the ceramic has a brilliant, mirror-like shine, which makes for a stunning band. Unlike similar looking rings, made of black titanium or black tungsten, the black color of the zirconia will never fade or chip away.
Titanium Style offers a variety of custom options for their ceramic rings. Band widths range from 6mm to 8 mm and can be rounded, in a classic dome-shape, or more modern with squared or beveled edges.
Additional services offered by Titanium Style includes custom engraving. Their special diamond engraving machine allows customers to add a personalized message or inscription to the inside of their ceramic wedding rings. Choose from a block or italic text for the inside of the band.
All of their ceramic rings are cobalt free and hypoallergenic, making them a great choice for all skin types.
All of the jewelry hand-crafted by the artists at Titanium Style comes with a Lifetime Warranty. The Warranty covers each piece of jewelry with a repair or replacement policy in the event of any material or manufacturer defects, as well as any flaws which may occur with normal wear.
For any couple who desires custom rings which will combine class and durability at an affordable price, Titanium Style is ready and waiting to create stunning ceramic wedding rings as the perfect addition to their special day.