Black Zirconium Rings - Contemporary Ceramics
If you are looking for an alternative to platinum, titanium, or tungsten, a black zirconium ring offers the same durability in a stylish and incredibly unique piece of jewelry. The beautiful, rich, black color has a high gleam, and creates a striking band.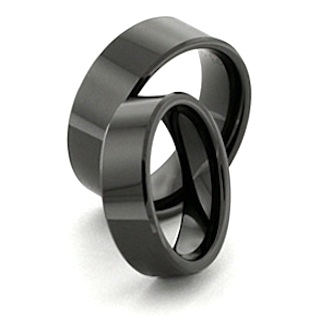 A black zirconium ring is made using a zirconium-based ceramic. This compound is one of the hardest, strongest ceramics on the market. A band made from this ceramic material is completely scratch and abrasion proof. The ceramic measures a 9 on the Mohs hardness scale and can only be scratched by a diamond. These ceramic rings will also resist any bending or breaking. In spite of the toughness of zirconium, it is also incredibly light weight.
Avant Garde is an Ohio based jeweler which specializes in hard metal jewelry. While there are black titanium and black tungsten pieces on the market, for customers looking for a black band, Avant Garde only recommends black zirconium rings. There are problems with black titanium and tungsten in regards to the longevity of their retaining their black color on the surface. Therefore, any black ring created by Avant Garde will be a black zirconium ring which is of the highest quality and sure to not only last a lifetime, but retain a beautiful, smooth surface.
These contemporary looking rings come with a variety of custom options. Bands are available in 6 mm or 8 mm widths. Customers can choose from a classic domed shape or flat style with squared or beveled edges. Additionally, Avant Garde offers beautiful titanium or tungsten rings with black zirconium ceramic inlays. Their black zirconium rings can also have inlays of tungsten added to them. The contrasting black onyx color next to the smooth silvery metallic of the tungsten creates a stunning looking piece of jewelry. The finish on a black zirconium ring is polished to a brilliant shine, which it will retain for years to come.
Avant Garde also offers custom engraving for those customers wishing to add a special, personalized message on the inside of their band.
The bands are all rounded on the inside, promising a comfortable fit and all of their black zirconium rings are cobalt free and hypoallergenic, making them safe for all skin types.
As with all jewelry hand-crafted by the talented artists at Avant Garde, their black zirconium rings come with a Lifetime Warranty. The Lifetime Warranty covers the piece of jewelry and provides a repair or replacement policy for any material or manufacturer defects, as well as any flaws which may occur with normal wear. This allows their customers to order their new black zirconium ring with confidence they will be completely satisfied with their purchase.