Tungsten Wedding Rings - Q & A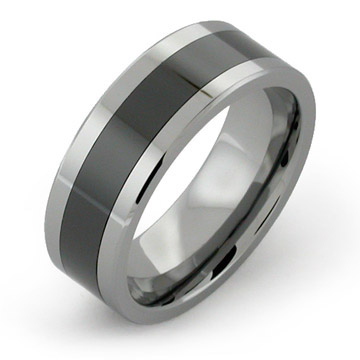 Q: Are there more affordable alternatives to platinum for wedding bands which offer the same durability?
A: Yes. Both titanium and tungsten wedding rings offer the same remarkable resiliency as platinum and at a fraction of the cost. These metals are both resistant to heat and are near impossible to bend or break. They do not easily incur nicks or scratches. Any scuff marks are shallow in nature and easy to buff out to maintain a flawless appearance.
Q: What exactly is tungsten? Where does it come from?
A: Tungsten is a natural element found in the earth. When combined with carbide, also a natural element, under high heat and extreme pressure, it results in a solid material that is perfect for creating tungsten wedding rings. Tungsten carbide has many applications. It has been used in machinery, ammunition, trekking poles and more. Only in the last decade has tungsten become popular for making jewelry. It is extremely hard and resilient to scratches. Its hardness has been compared to that of a ruby or sapphire. That is why many couples seek tungsten carbide rings.
Q: What does tungsten look like?
A: Tungsten is close in appearance to platinum, except a slightly deeper and more intense hue of silver.
Q: Are there any customizable options available for tungsten wedding rings?
A: There are a number of options available to tailor your wedding band to reflect your own taste. We can add an inlay of another precious metal, such as yellow gold, rose gold, white gold, silver, or platinum. You can choose different edges, add grooves, or both. Jewels can also be added to give a burst of color. We also offer a variety of finishes, including polished, brushed, or hand hammered for a completely different look.
Q: Can tungsten wedding rings be engraved?
A: Yes, we do offer engraving. A bride or groom can choose to add a special message on the inside of their rings. Due to the hardness of the Tungsten Carbide, a special laser and diamond engraving machine has to be used to engrave the rings.
Q: Why should I entrust Avant-Garde for this important puchase?
A: We are an Ohio-based company that has been around for years. We started out small filling custom orders for local jewelry stores. However, as consumers have become aware of titanium and tungsten as options, the popularity has increased. Our customers come to us because they are seeking the best value for their dollar. With titanium and tungsten wedding rings, they are getting bands that will last a lifetime. As the demand has grown, so have we. We remain committed to using only the highest quality materials available and to treat each piece of jewelry as the hand-crafted work of art it is.
Q: Do you offer any type of warranty on your jewelry?
A: Customer satisfaction is important to us at Avant-Garde. We are proud to stand by our jewelry. We offer a 14-Day Money Back Guarantee to ensure complete satisfaction. Additionally, all of our jewelry comes with a Lifetime Warranty against manufacturer and material defects, as well as Lifetime Refinishing. We feel honored to be chosen to create our client's tungsten wedding rings and want them to look beautiful for a lifetime.