Tungsten Wedding Bands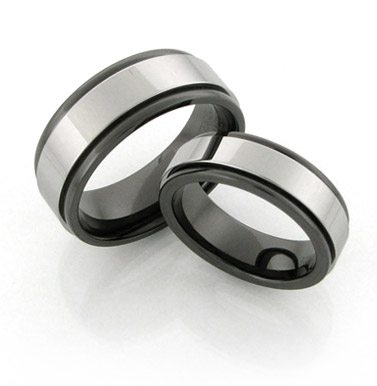 Nothing says "I will love you forever" better than Tungsten wedding bands. They truly stand the test of time. Tungsten wedding bands are some of the most beautiful, durable, scratch resistant wedding bands on the market today. They won't bend out of shape. They will never tarnish or discolor. Their extremely hard finish is virtually scratch proof, which means your rings will have a brilliant polished shine for life.
Tungsten Carbide is perhaps the hardest natural element on earth. Formed by combining equal parts tungsten and carbon, the result is a metal alloy which is 10 times harder than gold and four times stiffer than steel. It also has an incredibly high melting point – above 6,000 degrees Fahrenheit. Its strength makes tungsten carbide perfect for use as machine tools that can cut through steel. It is also the main component used by the military to create armor-piercing bullets.
When used for jewelry manufacture, tungsten carbide can be polished to an incredibly hard finish that is extremely durable. Tungsten wedding bands have a look and feel that is as substantial and luxurious as the finest gold or platinum.
Tungsten wedding bands come in an amazing array of styles from classic to traditional to ultra modern. Please visit Our Tungsten Rings Collection
Finishes can be smooth and polished, textured or even laser etched with intricate designs that won't fade or wear away. Wedding bands can also be inlaid with other precious metals, ceramic or gemstones. If you are looking for a truly unique piece of jewelry, consider tungsten wedding bands with the distinctive look of black tungsten.
Rings made from tungsten are the perfect rings for people who are hard on their hands. Wedding bands made from tungsten carbide are the most comfortable, wear resistant rings available. If you are active in sports, work with your hands or have allergic reactions to other metals, tungsten carbide is the solution for you.
You can discover all the strength and beauty of tungsten carbide jewelry by visiting Titaniumstyle.com today. We sell only the highest quality tungsten carbide wedding bands that are cobalt-free and completely hypoallergenic. Choose from a beautiful selection of styles and finishes that are sure to suit any style.
Titaniumstyle.com is your online source for tungsten and titanium jewelry. Our beautiful selection includes rings, wedding bands, necklaces, bracelets, crosses and pendants that are affordable, beautiful and guaranteed to stay that way.
Despite what you might think, you don't have to spend a fortune to have beautiful wedding bands. Get the rich look of platinum and gold without the high price tag. For wedding bands as beautiful and enduring as your love, choose tungsten wedding bands from Titaniumstyle.com. You'll be glad you did.