Tungsten Carbide Rings - Amazing Durability
Tungsten Carbide Rings can give you the look of fine platinum at a fraction of the cost. With the discovery of tungsten carbide, the jewelry industry is finally making a move into the twenty first century. By combining equal parts of two inorganic elements, tungsten and carbon, the result is an amazing metal alloy almost 10 times harder than gold and 4 times stiffer than steel. It is no surprise that tungsten carbide has continued to gain in popularity for use in jewelry manufacturing.
Tungsten Carbide Rings won't bend out of shape or scratch like gold, and they will maintain a perfectly polished finish for a lifetime.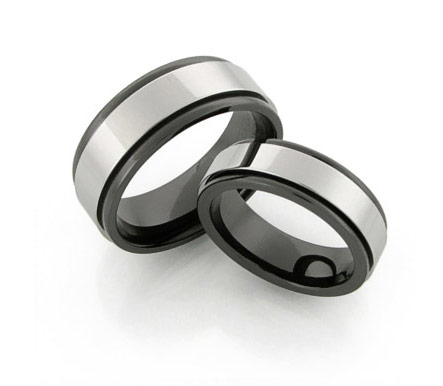 tungsten carbide and black ceramic rings
Avant-Garde Jewelry Company offers a wide selection of tungsten carbide rings, which are known for being the toughest and most scratch proof rings in the jewelry industry.
The perfect solution for men who are hard on their rings, Tungsten Carbide Rings can take years of abuse and still look like new. Finally, you can have wedding bands as enduring as your love. Whether you choose traditional or modern styling, your Tungsten Carbide Rings will look as great in fifty years as they did on the day you were married.
Tungsten Carbide Offer an Affordable Alternative to
Platinum or Gold Rings
As the price of precious metals continues to skyrocket out of control, Tungsten Carbide Rings offer an affordable alternative to platinum or gold. With prices fifty to seventy five percent less than traditional gold or platinum rings and an amazing array of styles to choose from, you just can't go wrong when you choose tungsten carbide wedding bands. No one will ever guess that you paid such an amazingly low price for such beautiful rings.
One of the most amazing features of Tungsten Carbide Rings is that even the most intricate laser etched designs will never fade or be worn or scratched away. You can choose from a variety of beautiful patterns and styles and buy with complete confidence knowing that your rings will stay beautiful for a lifetime. For even more drama, tungsten carbide wedding bands can be inlaid with gold, platinum or ceramic.
If you are ready to discover the timeless beauty and amazing durability of tungsten carbide wedding bands, visit Avant-Garde Jewelry Company at Titaniumstyle.com today. Every ring sold by Avant-Garde Jewelry Company comes with a lifetime guarantee. Our tungsten carbide is cobalt-free and hypoallergenic, so you won't have to worry about adverse reactions or any problems with discoloration that can be found with rings containing cobalt. Our rings are also true to size for United States sizing standards, so whether you are buying for yourself or someone else there is no need to worry if the ring will fit.
You don't have to pay a small fortune just to have beautiful wedding bands. If you want beautiful rings that will truly stand the test of time discover Tungsten Carbide Rings at Titaniumstyle.com. You'll be glad you did.