Titanium Tension Set Rings
Custom titanium tension set rings
A titanium tension set ring is not only a stunning piece of jewelry, but also one with all the strength and durability titanium is known for. Titanium has garnered itself quite the reputation in the last few years as the perfect material for creating beautiful pieces of jewelry. The hard alloy is comparable to platinum, with its rich, silver color and indestructible nature. Like platinum, it is resistant to bending, breaking, or scratching. However, unlike platinum, it is also extremely affordable.
Titanium is the Ideal Metal for Tension Setting!
Titanium is also the ideal metal for tension setting. Tension setting refers to the method used to set a stone. Instead of using prongs for a more traditional setting, the stone is held in place by the two edges of the cut in the band. The pressure, or tension, of the metal itself keeps the stone suspended in place. As a result, a titanium tension set rings will allow the stone to reflect a greater amount of light and appear more brilliant than one held in place with prongs. Additionally, the stone looks like it is floating, giving the band an almost magical quality.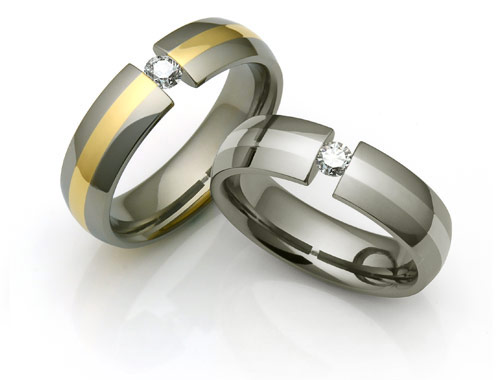 Titanium Style is an Ohio-based premier jewelry designer and creator which specializes in titanium and tungsten jewelry. A titanium tension set ring produced by them is made using Especially Hard Airspace Titanium Ti-662. This is the hardest grade of titanium available, which makes it ideal for tension setting. A softer metal will not be able to produce enough tension to successfully hold a gemstone in place.
Titanium tension set rings from Titanium Style will be custom designed and fitted, specifically for the finger it is meant to be worn on. This gives the customer the opportunity to choose the exact features and stone they want, making each ring one of a kind.
Customers can work with the talented artisans at Titanium Style to choose the band's features. Inlays of other metals, grooves, and beveled edges are just a few ways each band can be personalized. Customers even get their choice of finishes, from smooth and shiny to brushed satin. They also offer a beautiful hand hammered finish.
Don't forget about the stone! Customers also get to select which stone they would like set in the band. They can choose from high quality diamonds, rubies, emeralds, or sapphires. The experienced jewelers at Titanium Style can help guide you as you decide on size, shape, and color of the jewel.
Once the designing stage is completed, the gifted jewelers at Titanium Style get busy creating the one of kind ring for their customer. The completed ring will come with Titanium Style's Lifetime Warranty, which demonstrates their commitment to quality and pride and confidence in the titanium tension set ring.