Titanium Rings For Women
Not just for men anymore, titanium rings for women are catching on. While just the word titanium conjures up tough images such as tanks, jet planes or knives, this natural element is also ideal for making beautiful, long lasting jewelry.
Titanium rings quickly grew in popularity for men as a jewelry option which could withstand the excessive wear and tear men naturally put on rings. However, jewelry designers are also creating classy, more feminine versions of titanium rings for women.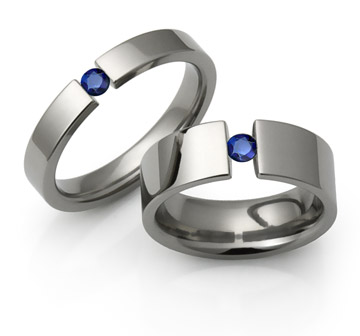 Men's and Women's titanium tension rings set with sapphires
The natural appeal for titanium is due to its hardiness. The natural element is nearly indestructible. Jewelry made from titanium can withstand heat and is resistant to breaking, bending, and breaking. The hard surface is also incredibly scratch-proof. Any small nicks or scratches visible are shallow and easily buffed out, with the jewelry retaining a like-new appearance!
In addition to the hardiness, titanium rings for women have great allure because of their light weight. Surprisingly, the tough metal weighs in at only a third of the weight of traditional yellow gold!
Platinum jewelry became quite acclaimed in the last few decades due to its durability. However, platinum is out of the price range for many shoppers. Titanium and tungsten ring in at a fraction of the price of platinum. However, the look of titanium and tungsten is close to that of platinum. It has a similar silvery hue, yet a little deeper and richer.
Premier jeweler, Titanium Style, is based in Ohio. They started out as a small shop providing custom titanium and tungsten jewelry to other shops in town. However, as the word got out about the benefits of Titanium, their business grew along with it. Today they offer their expanded line of stunning titanium and tungsten jewelry online.
All Our Titanium Rings Come in Women's Sizes
When customers log on to their website at www.titaniumstyle.com, they will find a complete line of jewelry, all of which can be customized to the buyer's taste. They can look to add optional features, such as an inlay of a different metal. This inner band can be made in white gold, yellow gold, rose gold, silver, or platinum, depending on whether they are trying to achieve a bold contrast or subtle complement. The inlay can be raised or deep set. Grooves can also be added, creating extra interest.
There are many options when it comes to edges, from a classic domed or a more masculine squared edge. Customers can choose a shiny, polished finish or a brushed satin finish, or perhaps a combination of the two.

When shopping for titanium rings for women, customers are often drawn towards styles which include a gemstone. They can set jeweled stones into the titanium band with direct set method or with tension setting, each creating a completely different look.
With the durability and classy look of a titanium band, it is no great surprise the demand for titanium rings for women has grown. Log on to www.titaniumstyle.com today and view their line of beautiful bands or contact them to have one custom made today.