Titanium Jewelry for Men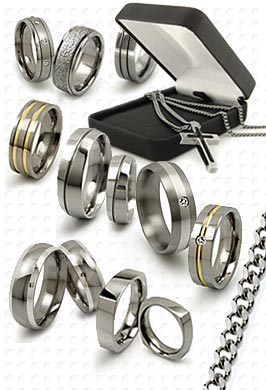 Titanium Style offers a stunning line of titanium jewelry for men on their website at www.titaniumstyle.com. As a leading expert in the design and creation of titanium jewelry, Titanium Style is keeping up with the growing demand by continually offering new designs and additional custom options for their customers.
Customers who browse their site will find a variety titanium jewelry for men, including rings, chains and necklaces, bracelets, and crosses and pendants. All of their pieces are made from the highest grades of titanium available: Aircraft grade titanium Ti-64, super hard titanium Ti-662, and pure titanium Ti-999. The talented artisans at Titanium Style can advise their customers on which grade is recommended depending on the design of the piece they are interested in.
All of their titanium jewelry for men comes with the durability the metal is known for, which is why it is so popular amongst men. The natural element is resistant to bending, breaking, or deformation. Very few things can scratch the hard surface and any nicks which appear are generally easily buffed out.
While tough is the first word that comes to mind regarding titanium, it is also a beautiful metal, with a deep, rich silver color. A surprising face is titanium is also extremely lightweight. In fact, titanium weighs only about a third of what traditional yellow gold does. These factors, in addition to the durability, make titanium an ideal material for the formation of jewelry.
Titanium Jewelry and Wedding Rings for Men
Many men are even opting for titanium wedding bands. Titanium Style offers a wide variety of designs to choose from with many options for customizing, allowing the man to wear a ring which reflects his personal taste and style. Inlays can be added of other metals, or even of ceramic or rubber. The inlays can be raised or set deeper to create a "channel." Grooves can be added to give the ring extra dimension. There are even multiple options for edges and finishes. Their unique hand hammered finish gives a ring a more masculine appearance, yet still look classy and timeless.
Titanium Style's chains and bracelets come in a variety of lengths and widths and link styles. They also have a selection of titanium crosses and pendants, as well as dog tags which can be custom engraved. All of the titanium jewelry for men is guaranteed to be pure and is hypoallergenic, making it safe for all skin types.
Titanium Style's jewelry for men comes with a Lifetime Warranty and a Lifetime Refinishing policy, insuring the piece is something that will last, and look great, for many years to come.