Titanium Jewelry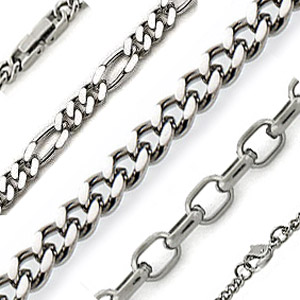 Titanium Chains and Necklaces for Every Occasion
Beautiful, lightweight and durable, titanium jewelry is quickly becoming the number one jewellry choice for the 21st century. Titanium, although relatively new to the world of jewelry manufacture, has had many other practical applications over the years. Possessing all the strength of steel but only a fraction of the weight, titanium is an important material used in the aerospace industry. So important to aerospace, in fact, that nearly 85 percent of the space shuttle's support structure is composed of titanium.
Another distinct feature of titanium is that it's completely resistant to corrosion. It is unaffected by exposure to salt or oxygen. For this reason, titanium has revolutionized both the fields of underwater exploration and medicine. Since titanium does not run the risk of rejection by the body that other metals do, titanium is now being used for a variety of medical equipment and procedures including pacemakers and total joint replacements.
The same features that make titanium so well suited for aquatic and medical applications make it perfect for use as titanium jewellry. Much stronger and more resilient to everyday wear than gold, titanium jewelry also weighs significantly less. That means titanium is incredibly comfortable to wear. Jewelry made from Titanium is 100 percent hypoallergenic. There is no risk of skin irritation or other allergic reactions with titanium.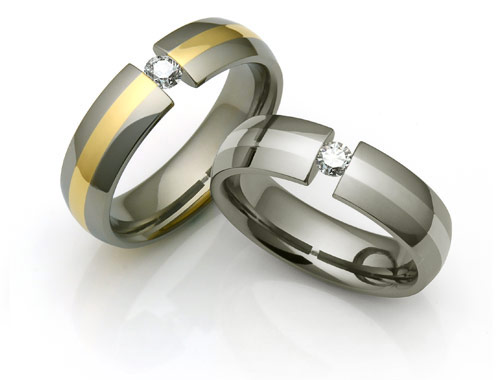 Tension Set Titanium Rings are Perfect for Men and Women
Titanium jewelry comes in a variety of styles and finishes to appeal to those with traditional or modern tastes. From highly polished finishes that resemble platinum to more modern hammered finish titanium, there is something to suit just about everyone. If you are looking for a jewelry piece that is truly unique, consider a titanium ring with a stunning black polish finish or inlay. Titanium pieces can be inlaid with other metals, ceramic or even rubber. Titanium can also be easily set with diamonds or other gemstones.
Although titanium rings have been around for quite some time, there are now other exciting options available when it comes to titanium jewelry. Titanium necklaces, bracelets, crosses and pendants all offer the same durable beauty as titanium rings along with a worry-free, tarnish proof finish. Titanium is the perfect choice for anyone who suffers skin sensitivity to gold.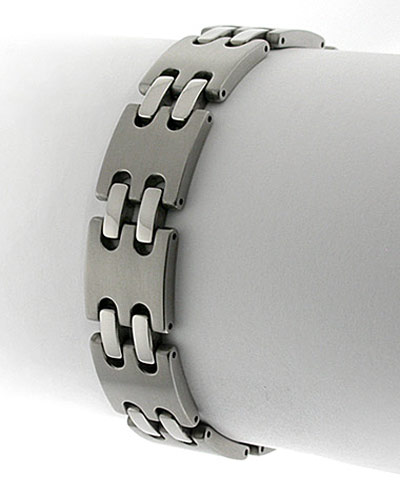 Titanium Bracelet
Titanium Makes a Wonderful Gift Choice
To discover all the beautiful possibilities available to you in titanium jewelry today, visit Titaniumstyle.com. Each of our titanium rings is individually handcrafted allowing you to choose the titanium grade, pick your style and add any custom inlays you would like to make a one of a kind jewelry piece. If you don't find a ring on our site that completely suits your style, we will work with you to create something unique. You don't have to settle for just any titanium jewelry piece. Get the best on the web at Titaniumstyle.com today.