Titanium Chain
Have you considered giving the gift of a titanium chain? This style trend is rapidly growing in popularity as more and more consumers learn of the benefits of buying titanium jewelry.
Especially as gold prices climbed, jewelry lovers began looking for alternative metals ideal for the making of jewelry. In titanium, they found the total package! Titanium is a hypoallergenic, long-lasting, lightweight, and affordable material which is perfect for making stunning pieces of jewelry.
Titanium is especially great for making a titanium chain. Necklaces made of more traditional metals, such as gold have a reputation for easily breaking or losing their luster over time. Platinum is more durable, but is also extremely expensive. Jewelry made of titanium, on the other hand, is nearly indestructible. The hard metal is completely resistant to breaking, bending, or scratching. However, it rings up at only a fraction of the price of platinum.
Titanium Chains and Necklaces
Avant Garde is an Ohio based jewelry company which specializes in custom, handmade titanium and tungsten jewelry. At Avant Garde, they use Commercial Pure Titanium, also known as Ti-999, to make a titanium chain. It is a more pliable grade of titanium and easier for the craftsman to work with. Additionally, it weighs in at only about a third of other metals weight.
When purchasing a titanium chain, you must first consider the desired length and width of the chain, then overall style. All of Avant Garde's chains can be ordered in any length.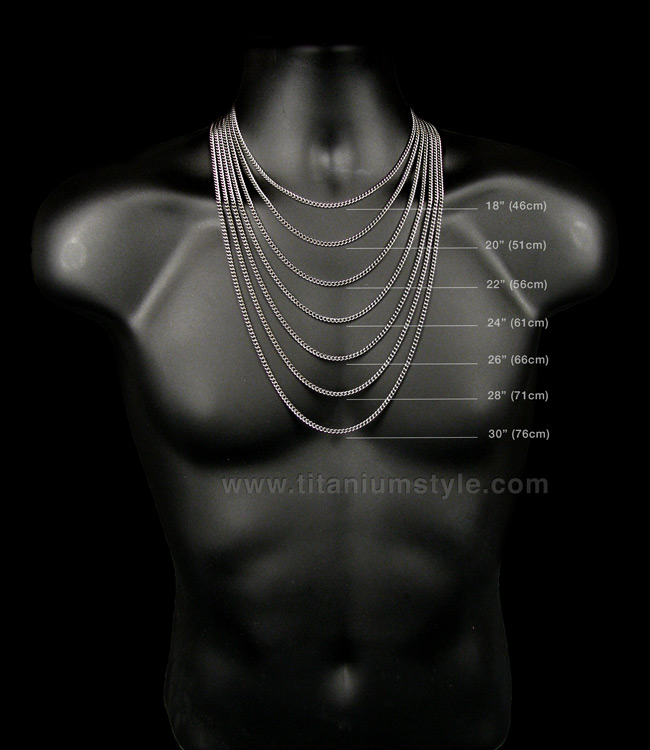 Their Classic Curb Style Titanium Chain comes in five different widths, with links available in large, medium, or small sizes, with the large measuring at 7 mm and the small at 2 mm, making it an option for both men and women. A more masculine design is the Box Style Titanium Chain. This chain has bold square links and measures in at 6.8 mm wide. Browse other classics, such as cable or rope, or specialty designs such as the Figaro or Oval chains. If you looking for something more unique, take a look at the Titanium Ball Chain. This necklace is created in exact Military design and includes Military style connectors and a barrel clasp.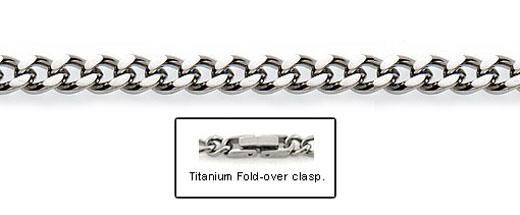 To complete your look, add one of Avant Garde's titanium cross pendants or titanium dog tags to your order. The cross pendants are designed to slide onto your chain without the use of a connector. This allows the cross to lay flat, without twisting or tangling. The dog tags boast a smooth, shiny finish on one side and a brushed satin on the other. You can have one or both sides custom engraved.
All of Avant Garde's titanium jewelry comes with a Lifetime Warranty and a Lifetime Refinishing policy. They are proud to stand by their artistic creations and hope you will enjoy your titanium chain for a lifetime.