Tension Set Titanium Wedding Rings
Brides strive to make their weddings unique. Shouldn't their wedding rings be unique as well? Custom made, tension set wedding rings make a bold statement and can be designed to reflect a bride or grooms own distinct personality.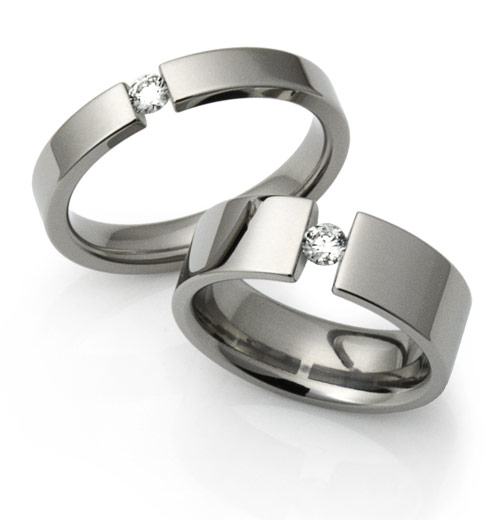 Titanium rings tension set with diamonds
Tension set wedding rings refers to those in which a jeweled stone is suspended between two edges of the ring using tension to hold it in place. The ring itself acts like a tightly coiled spring. This method allows more light to shine throughout the stone, resulting in a stunningly brilliant effect.
While tension setting can be performed in many different metals, when the technique is used in gold or platinum, the rings tend to be bulkier in size, as it takes a larger amount of those metals to hold the stones in place. However, since titanium is a strong enough metal to begin with, this is not a problem.
Inlaid Tension Set Titanium Rings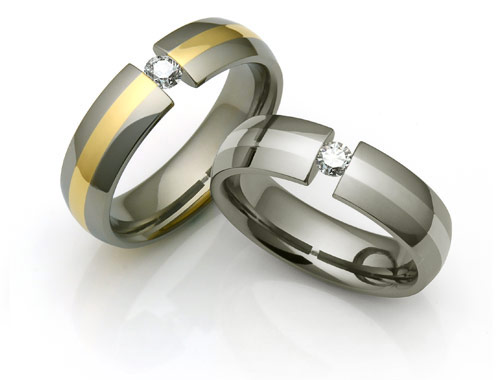 Titanium tension set wedding rings will also last longer than rings made of other traditional metals. Titanium has a reputation for its extreme durability, and couples want to know their wedding rings will last a lifetime. With titanium, they are getting rings which are resistant to breaking or bending. The hardness of the natural element also acts as a defense against nicks and scratches.
Avant-Garde is an Ohio-based company that has specialized in the creation of titanium wedding bands. They have seen the demand for their classy jewelry increase over the years and have grown to accommodate the growth of this trend, expanding their line of designs and offering their custom creations on the internet, where they can reach a worldwide audience.
Their tension set wedding rings are dramatic and eye-catching. Couples can select additional features for their bands, such as inlays of contrasting metals. Simply changing the edge from a classic domed to a flat can alter the entire look of the ring. Finishes can be smooth and shiny or a brushed satin.
Couples can also opt to add a special message to the inside of their wedding bands. Avant Garde uses a special diamond laser machine to etch the engraved letters into the hard surface. Customers can choose from a block text or italic.
Avant Garde is committed to the quality of all of their jewelry and illustrates this with their 14-Day Money Back Guarantee and their Lifetime Warranty. The 14-Day Money Back Guarantee makes certain their clients are satisfied with their new purchase. The Lifetime Warranty protects them against any manufacturer or material defects throughout the life of the jewelry piece.
For the bride and groom looking for a one of a kind set of wedding bands, tension set wedding rings are guaranteed to make a statement.