Tension Set Engagement Rings by Titanium Style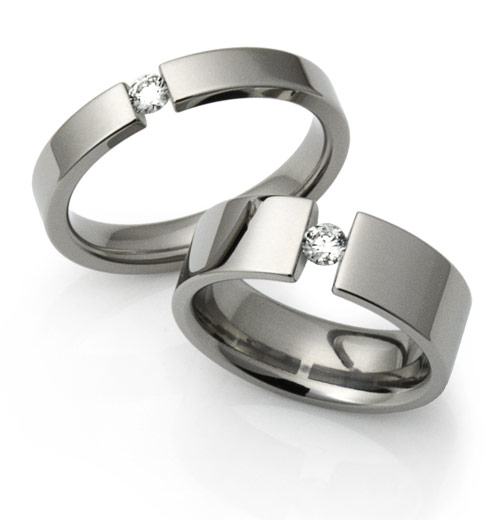 Tension set engagement rings are a rapidly growing trend. This is attributed to the many benefits of setting a stone using the tension setting method.
Tension setting is exactly what it sounds like. Instead of placing a jewel in a ring using the traditional method of prongs to hold it in place, the metal band is opened and the stone is set inside of the two edges. The pressure of the metal band acts like a spring and holds the stone in place, seemingly suspended in midair.
However, the enchanting result is only partially responsible for the rising popularity of Titanium tension set engagement rings. Since each band has to be custom made to fit the finger it is going to be worn on, the customer is able to have the ring designed to their exact taste from start to finish, guaranteeing a one of a kind engagement ring.
Due to the way tension engagement set rings are constructed, harder metals are more recommended. Traditional metals, such as gold or silver, are not necessarily ideal. Platinum, titanium, and tungsten are harder materials and can provide the amount of pressure required to hold a stone in place, without adding unwanted bulk to the band.
Titanium Style is an Ohio based jeweler which specializes in custom made jewelry, especially pieces made of titanium or tungsten. For tension set engagement rings, they recommend Especially Hard Airspace Titanium (Ti-662), which is the hardest grade of titanium available. While platinum is also an ideal metal for tension setting, platinum is extremely expensive. Titanium on the other hand will provide the same smooth, silvery color, in a nearly indestructible band at a fraction of the cost of platinum.
Like platinum, titanium is resistant to bending, breaking, deformation, or even scratching. Any scratches or nicks the band may incur through normal wear will be shallow and can easily be buffed out, keeping the ring looking like new for a lifetime.
Titanium Style offers a wide range of options for their customers to choose from as they tailor-make the ring. They have a selection of quality gemstones, from diamonds to rubies, emeralds, and sapphires. The experienced jewelry crafters will work with the client to select the perfect stone for tension setting.
Additional options include adding an inlay of a different metal. This look is popular, as it results in a striking inner band of a metal contrasting the titanium. Customers can choose from rose gold, yellow gold, silver, white gold, or platinum for their inlay. Furthermore, the inlay can be slightly raised or can be set in a channel.
The customer then gets to decide on a finish to the band. Shiny and smooth or brushed satin. They even offer a hammered look for the customer looking for something less traditional. The possibilities are endless.
For the customer looking for something as unique and individual as his bride to be, Ttianium Style's tension set engagement rings are the perfect choice.